VIDEO: Zaha Hadid visits Glasgow Transport Museum
June 9 2011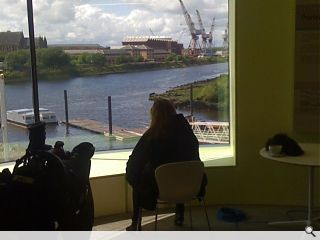 Glasgow's latest cultural attraction welcomed a rare guest this afternoon when internationally renowned architect popped in alongside the design team to enthuse over her first cultural project in the UK.
Introduced by Glasgow City Council leader Gordon Matheson as "maam" Hadid went on to describe how the "fluid space" was designed around an intersection of flowing water and traffic.
The battleship grey hulk plays host to twice as many exhibits as its Kelvin hall predecessor and is intended to become a trailblazer for the stalled development of Glasgow Harbour.
A number of innovative design solutions are incorporated to the consciously industrial space, including a column free, structurally expressive, pleated roof and acoustic panels perforated to muffle sounds by increasing the surface area 10 fold.
Back to June 2011