Scottish Provident at risk
|
Send to friend
September 20 2004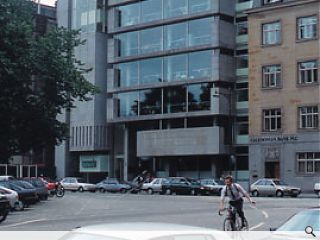 The Scottish Provident Building, one of Scotland's best-loved modernist buildings may be at risk under new proposals for the south side of St Andrew's Square Edinburgh.
The A Listed polished stone and glass office block was built in 1961 and designed by Rowand Anderson, Kininmonth & Paul. In the World Heritage Trust management document, the modern but contextual building is described as the best commercial building of the post war period.
Following the success of Harvey Nicholls in St Andrew's Square Edinburgh, CDA are working on a scheme to reorganise and redevelop the entire New Town block in line with local planning policy. Planners are keen that the block is given over to retail activity - they regard the south side of St Andrew's Square as an important component in the campaign to strengthen Edinburgh city centre's position as a shopping destination.
Historic Scotland has strongly advised CDA against submitting an application to demolish Scottish Provident. "The guidance is stringent -the owner would have to put the building on the market at a price reflecting its condition and convertability and prove that there was no potential buyers or restoring purchasers whatsoever,"said Rannald McInnes of Historic Scotland.
Edinburgh planners concede that the building will be difficult to adapt, but plans to demolish the building may meet strong opposition. Riccardo Marini, the right hand man to Terry Farrell, the city's Design Champion, recently picked Scottish Provident when asked to name his favourite building in Edinburgh. "What we want is a enthusiastic architect with a love of 1960s buildings, that can turn it into something like a boutique hotel. It has been done in Europe and the USA," said McInnes.
Back to September 2004