Tesco clashes with Scottish Borders Council in façade feud
May 25 2011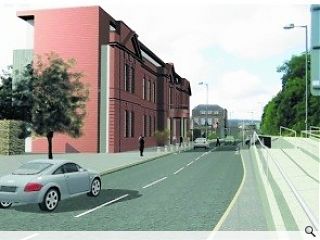 Negotiations between Tesco and Scottish Borders Council over the fate of the former façade of the Galashiels textile college – dismantled in 2006 to make way for a new supermarket, have collapsed in acrimony today.
Tesco has been sitting on the stonework for five years with the intention of having it rebuilt at a new transport interchange championed by the Council.
Those plans have now been ditched however after the Council complained Tesco was not offering sufficient funding for the work.
The £5m transport interchange would include new business space to enhance the vitality of the town centre in time for the opening of a new rail route between the Borders and Edinburgh in 2014.
Council leader David Parker said: "SBC was happy to seriously consider the incorporation of the facade into this new iconic building and our only concern was to ensure Tesco provided sufficient funding for this to happen without the council tax payer having to pay.
"Unfortunately Tesco's financial offer falls well short of the funding required to allow the facade to be used.
A Tesco spokesperson expressed surprise at the decision saying that the stones would be given over for free in addition to a sum toward "reasonable costs", adding that the firm believed talks had been "ongoing and moving closer to reaching an end point".
Tesco now says it will "dispose" of the masonry and "find another good cause for the money."
Back to May 2011