VIDEO: Kengo Kuma outlines V&A vision to Urban Realm
May 24 2011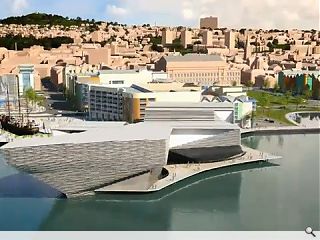 Urban Realm caught up with Japanese architect Kengo Kuma before his recent public lecture to find out more of what the
Kuma first visited Scotland 30 years ago to play a round of golf but the beauty of the landscape has stayed with him. Ever since Kuma has encountered many cultural exchanges between the two nations, observing: "When I was a student Mackintosh was my idol. In Hill House and the Willow Tea Rooms I saw many Japanese influences."
These influences are now boomeranging back to Scotland as the professor of architecture at Tokyo University and RIBA fellow envisions a "living room" and "gate to nature framing the landscape" for the V&A's northern base.
Kuma told urban Realm: "A museum in the 21st century is not a space for art it's a room in the city for the city." Most of the interior space of the building is accounted for by a voluminous column free void, with surprisingly few floors and rooms. This 'Great Hall' will act as a multi purpose space for concerts, performances and exhibits, dominated by a cascade of steps.
Mike Galloway, director of city development at Dundee stressed: "It will be free even for big blockbuster exhibitions, meaning locals can see for free what other citizens in other cities would have to fork out for." Galloway reckons the museum will recoup its losses via increased sales in the restaurant and cafeteria as a result of the open doors policy.
Kuma has another wheeze up his sleeve to tempt footfall, noting: "Museums in Japan never serve alcohol, but I insisted – and then it became very popular."
Budget constraints have forced the use of reconstituted and recycled local stone affixed to a series of precast concrete beams, not as a skin but part a self supporting framework. Here Kuma takes inspiration from the layers of sediment evident in geological cliff formations, saying "Nature created this shape and I wanted to do the same thing for the façade of this museum."
Akin to a traditional pier the centre will allow promenading along the waterfront including a dramatic archway where people can pass directly under the structure. Kuma notes: "Everything is flowing from river to the wind, I'm very much interested in an organic building. The building should invite movement and not block it."
The V&A is at the heart of attempts to return "urban character" for Dundee "You're much closer to nature here, but you need the dense urban experience as well, not just the hills." Dismissing suggestions that the build cost of £31m might prove ambitious for a development in water Galloway insisted that both sites comprised filled in docks, noting:"It's almost identical whether you build on water or on land – it's the same solution."
Galloway continued: "I remember Dundee as a student – I liked it but it was different – then I came back for a party in 1997 and thought wow. Two days later I saw the ad in the paper for a development director. The synchronicity was amazing."
Describing the unanimous decision to plump for Kuma Galloway added: "I hoped we'd get an organic building and I think that's what we've got. We've got a planning app this summer; hopefully there won't be any objections!" This will allow construction to start on site next autumn."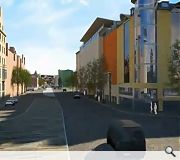 The well used Olympia Swimming pool will be missed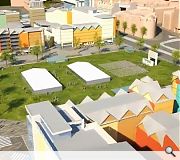 Waterfront developments have been lacklustre thus far
Back to May 2011