Mission in Possil? Concrete Garden in Possil Park wins major design award
May 20 2011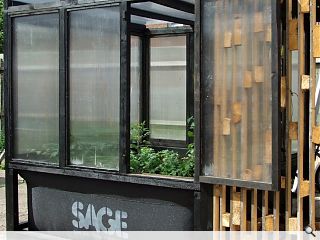 Possil Park has today shed its reputation for crime and deprivation after one of Britain's top planners, Peter Rees, chief planning officer at the City of London, bestowed the run down Glasgow district with his prestigious chairman's award at the Scottish Design Awards.
In what was a surprise decision at the glamorous bash, which aims to celebrate the very best architecture and design which the country has to offer, the community backed garden of rusty corrugated iron, concrete planters and packing crate trellises saw off competition from some big budget competition to walk off with the title.

Designed by erz Ltd the Concrete Garden brings vacant and derelict land back into interim use for food growing, a prospect which clearly whetted the appetite of jury chairman, Peter Rees, chief planning officer at the City of London, who chose the project for his Chairman's award. Rees told Urban Realm: "I chose this because I feel that however bad things get, however run down an area becomes there is always something you can do to enhance the area. The community can always get involved to make their surroundings better. You don't have to do a lot to make a place.

"To me this is a beacon of hope for the future and evidence that even if the major projects can't be executed in the near future at least we can plant seeds."


Gokay Deveci meanwhile has scooped his second award in as many days after securing top honours for Tigh-na-cladach (House by the shore) – 24hrs after winning a RIBA award for the same scheme. Deveci walked away with the Grand Prix award after the judging panel lauded the first Passivhaus accredited homes to be delivered by a UK housing association.

Gerry Grams, Glasgow City Council's design adviser and SDA judge, told Urban Realm. "This is a small, beautifully crafted project with quite a low budget but attention to detail is everything and I think that's what shines through. You can get a large elaborate project which does nothing for you but sometimes the smallest things which have a lot of attention to detail and are crafted well by the designers for their clients are the things that inspire you more than anything."


Gordon Benson was recipient of a Lifetime Achievement Award for services to architecture at the event, an opportunity for today's top architects to give their appreciation to someone who inspired a generation with his innovative fusion of modernism and Scottish vernacular.

LDN Architects meanwhile were recognised for the breadth of their talent as well as its quality, with the practice winning an exceptional four separate awards for Edinburgh's Usher Hall, University of Edinburgh Business School, the Bread Street offices of Buro Happold and Morningside Parish Church named practice of the year.

A full list of winners will be available at www.scottishdesignawards.com from Friday May 20.

Our panel of judges was chaired by Peter Rees, chief planning officer for the City of London and included; Ian Goodfellow, partner at Penoyre & Prasad; Andy Theobald, senior partner at Feilden Clegg Bradley Studios and Gavin Miller, partner at Rick Mather Architects, Robert Maxwell, partner at Allies and Morrison, Gerry Grams, city design adviser, Glasgow City Council and Tracy Meller, associate at Rogers Stirk Harbour and Partners.


Architecture Results by Category


Architecture Grand Prix

AWARD
Company: Gokay Deveci (RIBA, RIAS) Chartered Architect
Client: Peter McDonald (Fyne Initiatives Ltd)
Title: Tigh-Na-Cladach (House by the shore)
Architect: Professor Gokay Deveci, Gary Smollet, Raju Noor
Engineer: Jim Pickett (Ramage Young)
Q.S: Tommy McQuade (Morham & Brotchie)
Contractor: Gillies Brown, John Brown (Strone) Ltd
CDN Coordinator: Alan Rogers (Pentran)
Photographer: Andrew Lee

Chairman's Award for Architecture

AWARD
Company: erz Limited
Client: St Mathews Church and Community Growing Goup
Title: The Concrete Garden
Designer: erz Limited
Main Contractor: Glasgow Wood Recycling
Structural Engineer: Woolger Hunter


Architectural Practise of the Year

AWARD
Company: LDN Architects


Lifetime Achievement Award

Gordon Benson
Benson – Forsyth Architects


Lighting

AWARD
Company: Speirs + Major
Client: Las Vegas Sands Corporation
Title: Sands Casino Resort Bethlehem, pa USA
Lighting Designers: Jonathan Speirs / Sarah Wisher
Photographer: Alyssha Eve Csuk

COMMENDATION
Company: KSLD
Client: The Ashmoleean Museum
Title: The Ashmoleean Museum, Oxford
Design Director: Kevan Shaw
Senior Design: Hannah Neufeld
Designer: Natalie Bell
Design Assistant: Claire Hope

NOMINATION
Company: Speirs + Major
Client: Usher
Title: Usher Hall Interior Lighting, Edinburgh, UK
Lighting Designers: Jonathan Speirs / Carrie Donahue Bremner / Caterina Colle / Melanie Rosenthal
Architect: LDN Architects
Chandelier Manufacturer: Mike Stone Lighting
Photographer: James Newton

Interior Design

AWARD
Company: G1 Group
Client: G1 Group
Title: The Corinthian Club
Creative: Jim Hamilton (Graven Images)

AWARD
Company: RMJM Scotland Ltd
Client: South Lanarkshire Council
Title: St Joseph's Primary School, Blantyre
Main Contractor: Kier Scotland Ltd
Structural Engineer: Goodson Associates
Landscape Architect: TGP
Photographer: Keith Hunter

NOMINATION
Company: CM Design Consultants
Client: Brewdog
Title: Brewdog, Aberdeen
Designer: Mark Brunjes

NOMINATION
Company: Page \ Park Architects
Client: Dollar Academy
Title: Dollar Academy Sixth Form Centre
Structural Engineer: SKM (Edinburgh)
Services Engineer: Harley Haddow Partnership (Edinburgh)
Contractor: Sharkey
Photography: Andrew Lee
CDM-C: Kirk & Marsh Ltd

Regeneration

AWARD
Company: Oberlanders Architects LLP
Client: Fountain North Ltd
Title: Springside
Quantity Surveyors: CBA – Bruce Cragill
Structural Engineer: Goodson Associates Ltd – Frank Boyne
Mechanical and Electrical Engineer: Blackwood Partnership – Stuart Lowe
Landscape Architect: EDAW PLC – Ben Palmer
Main Contractor: BAM Construction UK Ltd – Martin Cooper
CDM coordinator: Peter Graham & Partners
Road

NOMINATION
Company: Austin-Smith:Lord
Client: Irvine Bay Regeneration Company
Title: Kilwininning Town Centre Regeneration Plan
Project Director: Graham Ross
Architecture: Niall Murphy
Landscape Architects: Lesley Millar
Conservation: David Millar
Graphics: Alison Gray

NOMINATION
Company: Collective Architecture
Client: Sanctuary Scotland
Title: Unwood Regeneration
Project Manager: Robert Taggart (Turner + Townsend)
Architect: Andrew Gower
Engineer: Graham Ballantyne (Scott Bennett Associates)
Contractor: Ashleigh (Scotland) ltd
Photographer: Andrew Lee

Residential

AWARD
Company: Nord Architecture Ltd
Client: Living Architecture
Title: Shingle House
Architecture: Nord

COMMENDATION
Company: HLM Architects
Client: Highland Housing Alliance / O'Brien Properties
Title: plot_11 the passive house terrace
Project Director: Lorraine Robertson
Project Architect: Ross Barrett
Project Technician: James Lindsay
Landscape Architect: Simon Bell
Structural & Services Engineer: Buro Happold
Consulting Engineer: Scottish Passive House Centre
Interior Design: HLM / Craft House Concept

COMMENDATION
Company: Simon Winstanley Architects
Client: Mr & Mrs S Winstanley
Title: The Houl
Architect: Simon Winstanley
Engineer: Asher Associates
Landscape: Paterson Landscape
Contractor: 36 Construction

NOMINATION
Company: Brennan & Wilson Architects
Client: Highland Housing Alliance
Title: The Whole Life House
Architects: Julie Wilson and John Brennan




Affordable Housing

AWARD
Company: Gokay Deveci (RIBA, RIAS) Chartered Architect
Client: Peter McDonald (Fyne Initiatives Ltd)
Title: Tigh-Na-Cladach (House by the shore)
Architect: Professor Gokay Deveci, Gary Smollet, Raju Noor
Engineer: Jim Pickett (Ramage Young)
Q.S: Tommy McQuade (Morham & Brotchie)
Contractor: Gillies Brown, John Brown (Strone) Ltd
CDN Coordinator: Alan Rogers (Pentran)
Photographer: Andrew Lee

AWARD
Company: Michael Laird Architects
Client: Mactaggart & Mickel Ltd / Dunedin Canmore Housing Association
Title: St Mark's Quay Affordable Housing
Architect: Michael Laird Architects
Structural Engineer: Halcrow Yolles
Contractor: Mactaggart & Michel
Landscape Architecture: Keith Woud
Photographer: Paul Zanre

COMMENDATION
Company: Austin-Smith: Lord
Client: Bield Housing Association
Title: Pearce Street Govan

COMMENDATION
Company: Collective Architecture
Client: Partick Housing Association
Title: Byron Street
Architect: Collective Architecture (Alan Smith)
Engineer: Scott Bennett Associates (Eric Graham)
Quantity Surveyor: Armour Construction Consultants (Kenny Barclay)
Contractor: Stewart & Shields Ltd
Photographer: Andrew Lee

Leisure / Culture Building or Project

AWARD
Company: LDN Architects llp
Client: City of Edinburgh Council
Title: Usher Hall
Architect: Michael Hamilton
Quantity Surveyor: Gleeds
Services Engineer: Irons Foulner Partnership
Structural Engineer: Will Rudd Davidson Ltd
Access Consultant: People Friendly Design
Landscape Architect: Ian White Associates
Lighting Designer: Speirs and Major Associates

COMMENDATION
Company: RMJM Scotland Ltd
Client: Bathouse Properties Ltd / The Modern Institute
Title: The Bathhouse Gallery
Structural Engineer: Hodgins Smith Partnership
Main Contractor: CCG Scotland Ltd
Quantity Surveyor: Campbell Martin Associates Ltd
Pre Build Photography: Kieran Dodds
Post Build Photography: Neale mith

COMMENDATION
Company: G1 Group
Client: G1 Group
Title: The Corinthian Club
Creative: Jim Hamilton (Graven Images)

NOMINATION
Company: Page \ Park Architects
Client: Dundee City Council
Title: McManus Galleries in Albert Square
Structural Engineer: Dundee City Council
QS: DCC
Contractors: Muirfield Contracts and Torith
Landscape Architects: Ian White Associates
Photography: Andrew Lee


Health Building or Project

AWARD
Company: Anderson Bell Christie
Client: NHS Greater Glasgow & Clyde
Title: The West Centre
Architect: Scott Young
Main Contractor: Stewart Bennett (Ogilvie Construction)
Quantity Surveyor: Alan Shanks (Reid Associates)
Mechanical & Electrical Engineer: Campbell Kelly (EDP Consultant Engineers)
Civil & Structural Engineer: Brain Hamilton (Scott Bennett Associates)
Fire Consultants: Will Marshall (Jeremy Garner Associates)
Clerk of Works: Jim Sommerville (Clerk of Works Inspection Services)
Artistworks: Tim Taylor
Exteriors: Tassy Thompson
Photographer: Keith Hunter

COMMENDATION
Company: Richard Murphy Architects
Client: NHS Fife
Title: Muirview, Stratheden Hospital, NHS Fife
Architects: Richard Murphy, Graeme Armet, Brian Tobain
Structural Engineer: URS
Project Manager: Cyrill Sweet
M+E Engineers: Capita Symonds

COMMENDATION
Company: Holmes Partnership
Client: NHS Greater Glasgow & Clyde
Title: Renfrew Health & Social Work Centre

NOMINATION
Company: JM Architects
Client: The City of Edinburgh Council
Title: Firrhill Respite Centre
Project Architect: Ciaran Quinn
Design Architect: Rob Duncan

NOMINATION
Company: Austin-Smith: Lord
Client: NHS Ayrshire & Arran
Title: Girvan Community Hospital
Project Partner: Iain Wylie
Project Director: George Wren
Project Architect: Andrew McCafferty, Colin Miller
Interior Designer: Vicky Gibbons

Education Building or Project

AWARD
Company: Ingenium Archial Ltd
Client: Scottish Borders Council
Title: Kingsland Primary School

COMMENDATION
Company: LDN Architects llp
Client: University of Edinburgh Estates and Buildings
Title: University of Edinburgh Business School
Architect: Dermot Patterson
Quantity Surveyor: Colin Wallace (KLM Partnership)
Structural Engineer: John Robson (SKM Anthony Hunts)
Services Engineer: Darren Goodwin (Buro Happold)
CDM Coordinator: Derek Thorburn (LDN Architects)
Clerk of Works: John Hunter (Sentinel)
AV Project Manager: John Power (AVTS)
Main Contractor: Graeme Marshall (Interserve)

NOMINATION
Company: RMJM Scotland Ltd
Client: South Lanarkshire Council
Title: St Joseph's Primary School, Blantyre
Main Contractor: Kier Scotland Ltd
Structural Engineer: Goodson Associates
M&E Engineer: Davie & McCulloch
Fire Engineer: Safe
Landscape Architect: TGP
Environmental Consultant: Envirocentre
Photographer: Keith Hunter

NOMINATION
Company: Malcolm Fraser Architects
Client: The Royal Scottish Academy of Music and Drama
Title: Speirs Locks Studios
Architects: Clive Albert / Robin Livingstone

NOMINATION
Company: RMJM Scotland Ltd
Client: Napier University
Title: Napier University, Sighthill Project
M&E: Buro Happold
Main Contractors: Balfour Beatty
Project Manager: Cyril Sweett
Planning Consultant: Jones Lang LaSalle
Traffic Consultant: Grontmij
Space Consultant: Stellae Ltd
Photography: Paul Zanre

Commercial/Offices Building or Project

COMMENDATION
Company: Cooper Cromar
Client: HF Developments
Title: g1 Glasgow
Architects: Simon Walsh /Graham Forsyth
Project Manager: David Adams (Adams Consultant Group)
Cost Consultant: Kenny Deans (G & T)
Engineer: Malcolm Buchanan (Woolgar Hunter)
Mechanical & Electrical Engineer: Bill Haggart (Ramboll)

NOMINATION
Company: LDN Architects llp
Client: Buro Happold
Title: Bread Street
Architect: Mark Sigwick
Quantity Surveyor: Alan Harper (Morham & Brotchie)
Structural Engineer: Buro Happold
Services Engineer: Buro Happold
Main Contractor: O'Neill Interiors

Retail Building or Project

COMMENDATION
Company: Cooper Cromar
Client: Ivanhoe Cambridge
Title: St Enoch Centre, Glasgow
Interior Design: Haskoll
Structural Engineers: Arup Scotland
Services Engineers: Ramboll
Project Manger: Cyril Sweett
Lighting Design: Speirs & Major

NOMINATION
Company: Manson Architects
Client: Tesco Stores Ltd
Title: Retail Development, Banchary
Structural Engineer: Goodson Associates
Mechanical & Electrical: EIC
QS: Thomas & Adamson
Contractor: Barr Construction

Public Building

AWARD
Company: LDN Architects llp
Client: Morningside Parish Church
Title: Morningside Parish Church
Architect: Mark Sidgwick
Quantity Surveyor: Morham and Brotchie (Alan Harper)
Structural Engineer: Elliott and Company (Peter Elliott)
Services Engineer: Irons Foulner Partnership (Sturat MacPherson)

COMMENDATION
Company: Lee Boyd Ltd
Client: Stirling District Tourism
Title: Extension to Wallace Monument Visitor Centre, Stirling
Structural Engineer: David Narro Associates
Services Engineer: RSP LLP
Quantity Surveyor: Morham & Brotchie Ltd
CDM Co-ordinator: Stewart Anderson Associates
Contractor: Marshall Construction Ltd

Proposed Building

COMMENDATION
Company: Collective Architecture
Client: Glasgow City Council
Title: Argyle Street Regeneration

NOMINATION
Company: Draw Architects Ltd
Client: Heritors Prime Scotland c/o Price Water Coopers Edinburgh
Title: Spylaw Residential
Architect: Mark Bingham

Re-use of a Listed Building

AWARD
Company: Page \ Park Architects
Client: Dundee City Council
Title: McManus Galleries in Albert Square
Structural Engineer: Dundee City Council
QS: DCC
Contractors: Muirfield Contracts and Torith
Landscape Architects: Ian White Associates
Photography: Andrew Lee

COMMENDATION
Company: Novo Design Studios
Client: The Townhouse Collection
Title: Blythswood Square Hotel, Glasgow
Interior Designer: Gravens Images
Structural Engineer: Thomson & Partners
Services Engineer: Dunwoods LLP
Quantity Surveyor: MacDonald Alexander
COMMENDATION
Company: WASPS Studio
Client: WASPS Studio and The WASPS Trust
Title: The Briggait, Glasgow

NOMINATION
Company: Austin-Smith: Lord
Client: Stockport College
Title: Stockport College – Phase 2b
Project Mentor: Roan Ruthford
Conservation Architect: David Millar
Site Project Architecture: Mike Davies
Project Director: Trevor Conley / Laura Shirliker

Low Cost Project

AWARD
Company: erz Limited
Client: St Mathews Church and Community Growing Goup
Title: The Concrete Garden
Designer: erz Limited
Main Contractor: Glasgow Wood Recycling
Structural Engineer: Woolger Hunter

COMMENDATION
Company: Fergus Purdie Architect
Client: Cairngorm Mountain Trust
Title: Camera Obscura – Dark Chamber - Cairngorm

NOMINATION
Company: Malcolm Fraser Architects
Client: London Fieldworks
Title: Outlandia Fieldstation
Architects: Niall Jacobson / Malcolm Fraser

Engineering Design

AWARD
Company: Buro Happold
Client: National Trust for Scotland
Title: Robert Burns Birthplace Museum
Architect: Simpson & Brown
Quantity Surveyor: Morham & Brochie
Project Management: Capita Symonds
Exhibition Designers: Continuum Group
Contractor: Border Constrction

COMMENDATION
Company: Sinclair Knight Merz
Client: Scottish War Blinded
Title: Scottish War Blinded Facility

NOMINATION
Company: David Narro Associates Ltd
Client: Mr & Mrs MacLoan - Bristol
Title: White House, Coll
Project Director: David Narro
Project Manager: Ben Adam
Senior Technician: Chris Scott
Architects: WT Architecture
Photographer: Andrew Lee

Public Realm/Landscaping

AWARD
Company: Page \ Park Architects
Client: Dundee City Council
Title: Albert Square (McManus Galleries, Dundee)
Structural Engineer: Dundee City Council
QS: DCC
Contractors: Muirfield Contracts and Torith
Landscape Architects: Ian White Associates
Photography: Andrew Lee

COMMENDATION
Company: Austin-Smith: Lord
Client: Irvine Bay Regeneration Company
Title: Kilwinning Main Street
Project Director: Siobhan Vernon
Landscape Architect: Lesley Samuel / Bruno Les

NOMINATION
Company: Land Use Consultants
Client: Highland Council
Title: Inverness City Centre Streetscape and Transportation Project
Project Director: Martin Tabur
Project Manager: Duncan McLean

NOMINATION
Company: Gillespies LLP
Client: Clyde Gateway
Title: Bridgton Cross, Glasgow

Placemaking / Master Planning

AWARD
Company: Sheppard Robson
Client: Clyde Gateway Urban Regeneration Company
Title: South Dalmarnock Masterplan

COMMENDATION
Company: Nord Architecture
Client: Urban Splash/Renfrew North Staffordshire
Title: Canal Quarter Hanley

COMMENDATION
Company: Cadell2 LLP
Client: Mackintosh & Murray Families
Title: Achinchanter Masterplan


NOMINATION
Company: Smith Scott Mullan Associates
Client: Dumfries and Galloway Council
Title: Stranraer Waterfront Masterplan
Construction Advisor: Drew Mackie Associates
Urban Designer: Jon Rowland Urban Design
Economist: Yellow Book Ltd
Movement Consultant: Hamilton Baillie Associates

Sustainable Design

AWARD
Company: HAA DESIGN Ltd
Client: Arup Group
Title: Scotstoun House
Project Architect: Gillian Lockyer
Interior Designer: Jean Camplisson / Lynne Semple
Consultant: Hugh Anderson
Photography: McAteer

AWARD
Company: Gokay Deveci (RIBA, RIAS) Chartered Architect
Client: Peter McDonald (Fyne Initiatives Ltd)
Title: TIGH-NA-CLADACH (House by the shore)
Architect: Professor Gokay Deveci, Gary Smollet, Raju Noor
Engineer: Jim Pickett (Ramage Young)
QS: Tommy McQuade (Morham & Brotchie)
Contractor: Gillies Brown, John Brown (Strone) Ltd
CDM Coordinator: Alan Rodgers, Pentran Glasgow
Photographer: Andrew Lee

COMMENDATION
Company: Gaia Architects
Client: Highland Council
Title: Acharacle Primary School – Pilot Sustainable Project
Architect: Samuel Foster
Contract Administrator: Howard Liddle
MRE Consultant: Wayne Butler (ARUP Scotland)
Structural Engineer: Andrew Fleming (Fairhurst Consulting)
Quantity Surveyor: John Stephen (Allied Surveyors)
CDM Coordinator: Mark Stephenson (Torrance Partnership)
Contractors: McGregor Construction / Sohm Holzban (Alberschwende)

COMMENDATION
Company: HLM Architects
Client: Highland Housing Alliance / O'Brien Properties
Title: plot_11 passive house terrace
Project Director: Lorraine Robertson
Project Architect: Ross Barrett
Project Technician: James Lindsay
Landscape Architect: Simon Bell
Structural Engineer: Buro Happold
Consulting Engineer: Scottish Passive House Centre
Interior Design: HLM



Future Buildings

COMMENDATION
Company: Sheppard Robson
Client: University of Edinburgh
Title: Scottish Centre for Regenerative Medicine
Partner: Andrew Bowles
Design Director: Tony O'Brien
Project Leader: Luke Thurman
Architect: Angus Barday
Associates: Ian Smith / Maryanne Crompton
Architectural Assistants: Suzanne Tighe / Ninian McQueen

NOMINATION
Company: Oberlanders Architects LLP
Client: Watkin Jones Ltd
Title: Sugarhouse Close
Architect: Valentin Hunzinger
Quantity Surveyor: Watkin Jones Ltd
Structural Engineer: Goodson Associates, William Rudd Davidson, Gillian Cooke
Electrical Engineer: Watkin Jones Ltd
Main Contractor: Watkin Jones Ltd
CDM Coordinator: Watkin Jones Ltd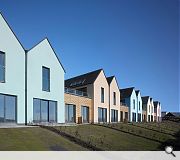 Tigh na Cladach was voted top dog at the awards
Back to May 2011