Waterfront Edinburgh to create thistle-shaped island at Granton
September 20 2004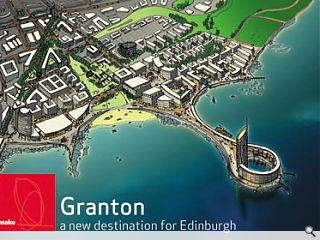 Waterfront Edinburgh is planning to create a new island in the middle of Granton.
The proposed island that may be thistle shaped in plan could contain a marina, a couple of towers and mixture of residential and leisure developments. The proposal is the brain child of Stephen Izatt, Chief Executive of Waterfront Edinburgh and Make, the architects employed to undertaken work on the area masterplan ,which is now in its third phase.
Since their appointment in the summer Make Places Ltd, the architect and urban design practice led by Ken Shuttleworth, has already made significant changes to the master plan for Waterfront Edinburgh.
Back to September 2004