CZWG tower gets planning at Gorbals
September 20 2004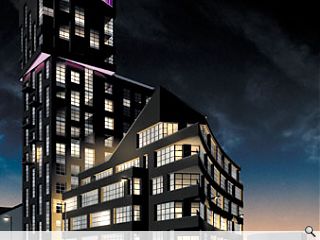 Planning permission has been granted for a residential scheme by CZWG Architects on the corner of Laurieston Road and Crown Street in Glasgow's Gorbals.
The Cruden Estates tower will be one of the final projects in the regeneration of the area, along with a church and a public library with shops and offices above, both designed by ADF Architects.
CZWG's masterplan for the Crown Street area envisaged a substantially higher building at the north end of Crown Street to act as a landmark. The proposed building is part gushet, part tower. The Crown Street elevation is four stories high, with a fifth storey set back in line with the other buildings in the street. To Laurieston Road, a height of six stories reflects the increased scale of the dual carriageway. The tower is placed to form a termination to the long boulevard of Old Rutherglen Road. The widening of the top element of the tower is an abstracted development of the castle tower form of Scottish Baronial architecture. The tower is set two metres forward of the Crown Street elevation, to allow it to be seen from the south as well as from the north and beyond to the bridge and across the river. The building is entered at the base of the tower, and the entrance hall is flanked by display windows for changing art installations.
Back to September 2004