Triple Kirks office scheme stokes controversy
May 16 2011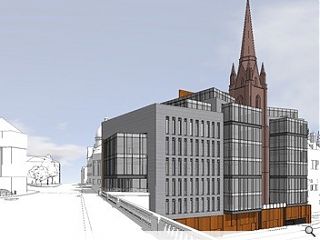 Stewart Milne's plans to breathe new life into a prominent eyesore in Aberdeen city centre has stoked additional controversy in the city following a protracted debate over the merits of the adjacent City Square proposal.
The latest scheme has seen Halliday Fraser Munro appointed to design a £40m office development on the site of the derelict Triple Kirks, a move which would see restoration of the remaining A listed spire, originally designed by Archibald Simpson.
The architects design approach is to break the massing of the development into three separate blocks whilst respecting the steeple in its choice of materials.
Stewart Milne said of the development: "The term iconic is thrown around by many developers but we believe what we hope to create will live up to that identity. "
Commenting on the scheme Andrew Goldie, planning convener of Queens Cross Harlow Community Council labelled the plans as "grossly unsuitable", saying: "The historic spire appears to be overwhelmed by the glass boxes surrounding it to the extent that the overall impression is one of suffocation."
Goldie added: "It is unsympathetic to the surrounding area both aesthetically and architecturally, and is of a style that would conflict with the existing architectural character of the area.
"In short, it would stick out like a sore thumb."
An application decision is still pending..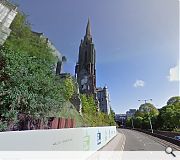 72,600sq/ft og grade office accommodation will be provided by the scheme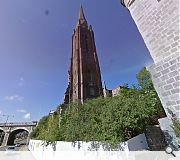 Denburn Valley motorists are currently presented by a sight akin to Dresden
Back to May 2011