Demolition delay drives Denny despair
May 9 2011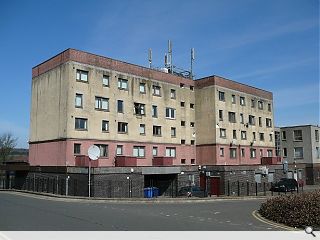 Despondent residents of the Stirlingshire town of Denny have been dealt a fresh blow after Falkirk Council admitted a CPO would delay, again, the long term demolition plans for three eyesore town centre blocks.
It means only half of the development can be demolished as planned in August 2011, with the remainder being subject to a legal process which normally takes two years to resolve.
No new build construction work is yet scheduled to take place on the site however with the land simply being blaized over.
Henry Boot PLC had proposed to build a Keppie designed foodstore on the site but will not submit a detailed planning application until they have found an operator.
Local regeneration campaigner Brian McCabe said, "I am bitterly disappointed at the council's handling of the whole project. Despite suffering the 2 year Compulsory Purchase delay, through at Stenhousemuir, Falkirk Council have yet again allowed the situation to develop with a regeneration project which necessitates the serving of a CPO.
"Falkirk Council have wasted 6 years of opportunity, to settle all acquisitions required in the town centre. They have known since day 1 that all of the blocks were coming down. "By their sheer incompetence, the local community now faces a further two years before we can have the remainder of this single block demolished. An absolute disgrace."
The dilapidated blocks prompted locals to accept last year's Carbuncle award.
Back to May 2011