Ask submit Salford Greengate plans
|
Send to friend
April 21 2011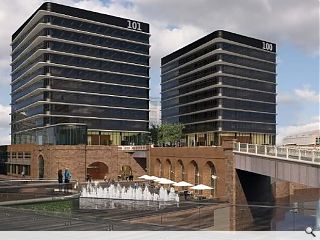 Ask Developments in conjunction with Network Rail have applied for detailed planning consent for a 10 storey office block above a former railway viaduct in Salford.
Situated in close proximity to Manchester Cathedral100 Embankment will rise to 10 storeys and will be twinned alongside an adjacent nine storey structure for which outline planning permission is already being sought.
The development was given a boost in March when Salford Council agreed to guarantee 50% of the rental value of the development in order to kickstart development.
It constitutes the first phase of a wider £350m masterplan for the Greengate Embankment area, adjacent to the river Irwell and sandwiched between Manchester and Salford which will
transform a 13 hectare site around the former Exchange railway station with a mixture of offices, homes and shops.
£8m funding from the Homes and Communities agency and NDA have ensured public realm works can start on site, scheduled to complete next April.
Back to April 2011