St Andrew's Cathedral cloister garden nears completion
|
Send to friend
April 18 2011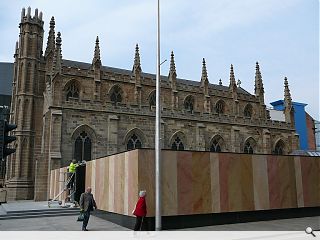 The finishing touches are being put to a new extension to St Andrew's Cathedral, Glasgow, after the historic building was re-opened to the public following an extensive £4.5m repair programme.
It will accommodate a new
cloister garden and apse
replete with a specially commissioned artwork from Peter Howson, consisting of 600 individual figures present at the execution of John Ogilvie.
Ogilvie, who was executed at nearby Glasgow Cross in 1615 for preaching Catholicism, has become a martyr to present day practitioners of the faith.
The Cathedral itself now benefits from new floors, oak seating and a state of the art sound system.
More than 3,000 books of gold leaf were used for the interior decoration which includes a feature marble altar, baptismal font and mosaics commissioned from craftsmen in Bethlehem.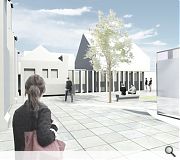 An artists impression of the planned cloister garden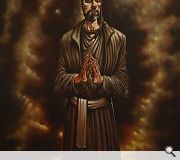 Peter Howson has painted a 10ft x 7ft painting of Ogilvie which now takes pride of place in the renovated Cathedral
Back to April 2011