Clyde Gateway to bridge east end wealth gap
April 6 2011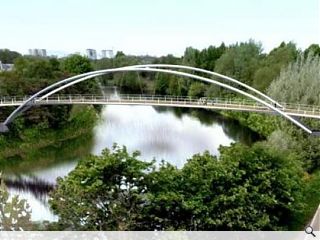 A pedestrian footbridge for the east end of Glasgow has taken a step forward today after Clyde Gateway revealed it had secured £1.9m in funding from the European Regional Development Fund toward a new Clyde crossing between Shawfield and Dalmarnock.
It will form the first tangible sign of progress at a planned national business district, halving the walking time from Dalmarnock Station to a range of office spaces, warehouses and workshops.
Clyde Gateway chief executive Ian Manson said: "here are big chunks of land in Shawfield that require substantial investment to remove contamination.
"The smart-bridge is part of a vision and strategy to deliver infrastructure and development within Shawfield and Dalmarnock."
Work on the £4.75m bridge is scheduled to take place in late 2012 with completion to coincide with the opening of a revamped Dalmarnock Station around 2013.
Back to April 2011