Orkney trio set to reshape Stromness
April 6 2011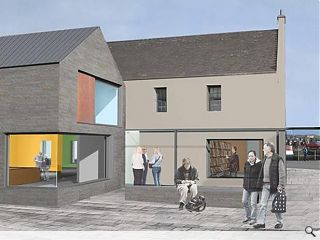 A trio of developments in Stromness, Orkney are finally gaining some traction with the local authority progressing plans for the redevelopment of the pierhead area - over two and a half years after Malcolm Fraser Architects won the competition to build it.
Orkney Islands Council is applying for planning permission following a recent public exhibition to repair a landmark 18th century warehouse on the site, whilst erecting new mixed use buildings around it to form a public square.
In form this will adopt the local custom of "shouldering" gables to the prevailing wind, forming a sheltered wind break in which to host markets and events.
Engineered by David Narro Associates the buildings themselves will accommodate two shops, a library and office space to be shared with the Northern Constabulary.
It complements a planned refurbishment of the town's former Commercial Hotel, which will be transformed into office accommodation via the design input of Gray, Marshall & Associates, Leslie Burgher and David Narro.
Also on the cards for Narro is the repair and consolidation of nearby Ness Battery, a series of defensive positions built during both World Wars. The fortifications have now been designated as a Scheduled Ancient Monument.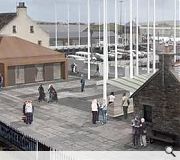 A new library will enhance cultural opportunities on the island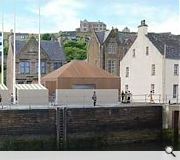 Orkney Island's Council are keen to revitalise the historic core of Stromness
Back to April 2011