Shelter looks to boost construction with new housing resource
April 6 2011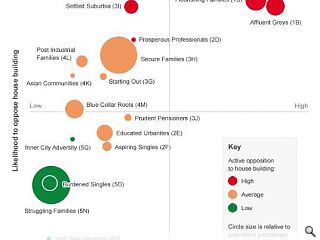 Shelter, the housing charity, has launched an
online portal
for planners and developers geared toward providing intel on the likely level of local opposition to new housing.
Documenting demographic data down to individual wards in local authority areas the website harnesses national survey data to provide a comprehensive source of local attitudes to house building.
Shelter compiled the resource in a bid to streamline the planning process, identifying key community members to consult on housing growth and the best ways to convince them of the need to deliver more housing.
Kay Boycott, Shelter's director of campaigns, policy and communications, said: "We are in the midst of a massive housing crisis where the only solution is to build more homes.
"While 72 per cent of people agree that we need more homes in this country, 48 per cent would oppose plans to build on their street. Increasing understanding of people's concerns regarding development in their area is a vital step on the long road to providing decent, affordable housing for everyone."
Back to April 2011