Farnsworth House given Lego makeover
|
Send to friend
April 4 2011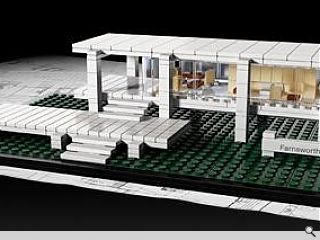 Lego Architecture, a high brow spin off of the humble plastic blocks, has taken the birth of the modernist movement for its latest architectural recreation, Mies van der Rohe's Farnsworth House.
Eschewing concrete for plastic Lego are making available their scale replica in kit form for just £37, although any proud homeowners will have to do all the brick laying by themselves.
The classic 1951 villa was re-worked by Chicagoan architect Adam Reed-Tucker, who recreated the modernist homes striking vertical columns with 1x1 bricks, albeit losing the daintiness of the original.
Tucker mused: "It's fitting that recreating a minimalist symbol of Modern architecture was done so with the simplest of Lego bricks, the humble 1x1."
Farnsworth House is but the latest architectural icon to be given a Lego makeover following Frank Lloyd Wright's Falling Water and Guggenheim museum.
What Mies would have made of the plastic replica is anyone's guess.
Back to April 2011