Littleton Green School selected to host design awards
March 28 2011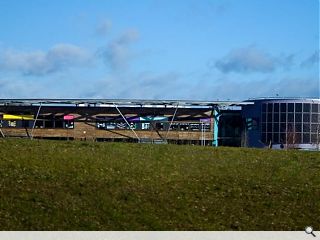 A community school in Huntingdon, Satffordshire, has been selected to host a local design awards ceremony for which it is itself a contender, the South Staffordshire Design Awards.
The Archial designed community school lives up to its name by employing the latest sustainable technologies in its construction, making use of home grown sweet chestnut cladding and a roof comprising an environmentally inert polymer layered with sedum.
An overhanging roof has been designed to provide both an architectural statement and provide shading to expansive glazing on the southerly façade.
Located on a former colliery the £8m school is intended to act as a bridge between the existing village of Cannock Chase and a new housing development.
In an attempt to raise design standards in the authority's schools a design competition was staged for the school, a process which saw an artist was employed to work directly with pupils on both the interior and exterior colour palettes.
Back to March 2011