Guerilla lighting campaign mounted in opposition to Edinburgh flats plan
March 22 2011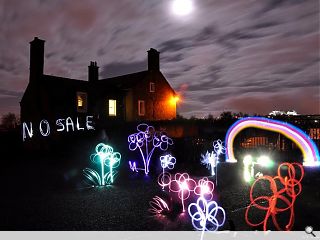 Friends of Inverleith Park, a pressure group formed in opposition to Edinburgh Council's plans to transform the eponymous park into a housing estate, have staged a guerrilla lighting campaign to illuminate their cause.
Shrubbery, trees and an ornamental sundial were bathed in a luminous glow for the nocturnal protest
Fifty volunteers led by Kevin Shaw Lighting Design erected the colourful protest aimed at encouraging the council to see the light and reverse plans to construct seven flats on the former depot.
Council bosses have pledged to hold further discussions with residents before submitting a formal planning application for the contentious site.
KSLD's Claire Hope said: "Guerrilla lighting is all about highlighting a specific cause but it's also about having fun.
"We're hoping that some experimenting with light will spark some great ideas for how this space can be used by the community instead of being lost for housing."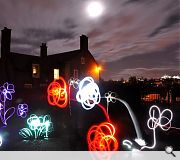 KSLD are keen to bring the communities campaign out from the shadows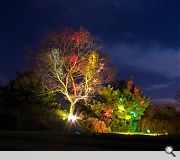 Residents are hopeful Christmas will come early and the Council will recant
Back to March 2011