Curtis fumes over GSA "whitewash"
March 22 2011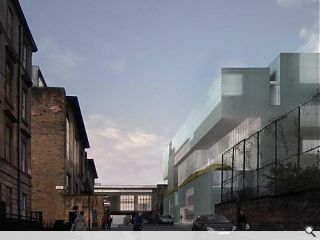 Architectural critic William Curtis has castigated an official council report into the Glasgow School of Art as a "preposterous document full of slanted information and half truths."
Curtis's hackles were raised by a passage in the report which reference "laudatory" media coverage, but the phlegmatic critic spat back that the scheme had in fact been "assassinated" by the press.
Holl's nemesis was particularly irate at having not earned a mention in the
39 page document
, an omission which prompted the astonished Curtis to pen a multi excamation marked response: "I am quite simply not mentioned at all!! It is a bit like one of those official photos where inconvenient individuals are airbrushed out!!"
For its part the report notes that no representations had been made directly to the council and that press commentary would not form part of any deliberations.
Returning to the architecture Curtis warns that the Holl expansion is "fundamentally flawed", accusing Holl of "fudging" the buildings relative height and "ignoring" the cornice line of the Mac original.
David MacKay of MBM Arquitectes chaired the judging panel which approved the Holl design, a group which included Muriel Gray, Isi Metzstein and the GSA's own head of architecture, David Porter.
Glasgow City Council is expected to approve the plans at a meeting of the planning applications committee today at 11:00 within the City Chambers.
Back to March 2011