Denny Plook spat sparks Parliamentary debate
March 20 2011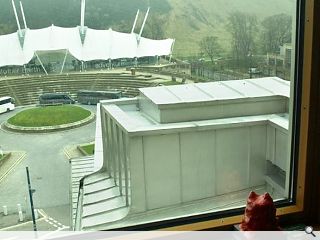 The Plook-on-the-Plinth, a play do manifestation of all that ills contemporary architecture, has made a guest appearance at the Scottish Parliament in support of the regeneration of Denny.
The motion was brought by SNP MSP Michael Matheson who urged Parliament to consider that there is "…widespread dissatisfaction among residents in the Denny and Dunipace area regarding the planned Denny town centre regeneration."
The motion was supported by MSP's Linda Fabiani and Stewart Stevenson amongst others.
Urban Realm has been backing the community's campaign to
flatten a derelict block
in Denny town centre.
Back to March 2011