New Town allotment plans cause a lot of bother
March 9 2011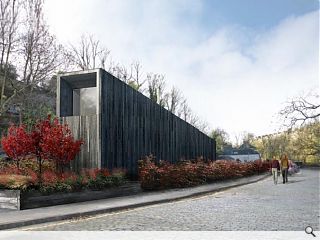 A planned five metre high allotment shed has had to be redesigned after residents of Edinburgh's New Town claimed it would ruin the historic Georgian skyline.
The stushie centres on a narrow strip of land joining Doune Terrace and Mackenzie Place which Edinburgh City Council wishes to see transformed into allotments.
Those plans are likely to be approved by planners on Wednesday – sans shed.
Sutherland Hussey Architects intended for their ambitious structure to be a "gatehouse" to the allotments and clad it in black stained timber battens to "complement the organic materials and texture of the allotment itself."
Susie Thornton, chair of the Ann Street Society, was having none of it though, saying: "It is our view that the 'hut' is much too large and is out of character with the majority of buildings in the area. The name 'hut' belies its character. It is no hut. It is a large shed of industrial proportions.
"The design of a long black wooden trapezoid with the street-facing wall unbroken by windows relates to no other building in the area, neither the flats opposite nor the Georgian terraces."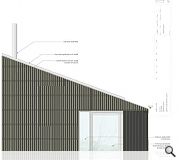 Internally the wood is stained white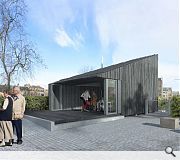 The plan of the building is roughly trapezoidal
Back to March 2011