Holmes launch student café competition
March 8 2011
Holmes Architects, the designers behind Marischal College the new headquarters of Aberdeen City Council, have embarked upon collaboration with Harlaw Academy to design a small café pavilion in Rubislaw Terrace Gardens.
The project aims to marry the mathematics curriculum with environment making, illustrating the practicalities of what can seem a purely academic exercise by giving pupils the opportunity to conduct site surveys and produce scale drawings.
Stuart Gray an Architect at Holmes said "The partnership has allowed us to fulfil our role as architects and pass down our knowledge to the wider community. By relating studies to the professional environment, pupils will start to understand the importance of mathematics in a wider context while also developing core skills through communication and group work.
"We as architects are also gaining a greater understanding of the education system allowing us to design more accomplished educational buildings that respond to the needs of modern teaching methods".
The project will conclude prior to the Easter holidays whereupon a series of pupil presentations will be made to a panel of experts, comprising Stuart Gray and local business leaders.
Should the project be successful it could be rolled out school wide, linking into other subjects within the school, and to other schools.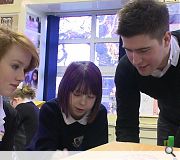 Stuart Gray instructs his charges in the art of building design
Back to March 2011