Investigation launched after council house tenants splash the cash
March 4 2011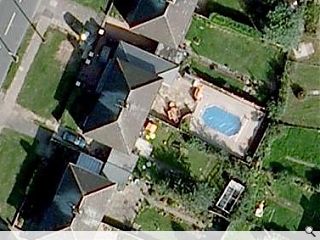 Housing bosses have mounted an investigation into the appearance of a luxurious outdoor swimming pool within the back garden of a home set aside by Doncaster Council to house the needy.
Jealous neighbours and observant Google Earth users spied the incongruous home improvement at an otherwise unremarkable property in the village of Rossington, Doncaster.
When St Leger Homes, the letting agent, stumbled on the garden accoutrement during a routine maintenance visit however an immediate investigation was launched to ascertain how its tenants could afford to splash the cash.
The owners, named locally as David and Lisa Frost, have spent thousands of pounds renovating the property with wooden flooring, feature gates and a six foot high privacy wall.
One neighbour was quoted as saying: "It was a bit of a surprise when they first moved in and started doing all this work. This is a council estate and it's not the sort of road when you normally find a luxury swimming pool in a garden.
There has obviously been quite a bit of money about because apart from the money they've spent on the house there have been lots of posh cars parked outside including Mercedes and BMWs."
A spokesperson for St Leger confirmed that permission had not been sought (or granted) for the pool, adding that: ""All applicants for a council home are now assessed financially before they are eligible for a property."
Back to March 2011