Roman museums ready for opening at Hadrian's Wall
February 24 2011
Studio MB, an Edinburgh based museum design specialist, is getting ready to open the doors to two of its latest creations, Vindolanda Fort and a Roman Army Museum.
Both refurbished facilities house material from The Vindolanda Trust collections, a unique collection of period artefacts including the Vindolanda writing tablets, to recount the history of the Roman occupation of Britain.
Located a couple of miles south of Hadrians Wall Vindolanda served as an important frontier fort and garrison settlement for over 300 years. Its refurbishment allows new displays to enhance the visitor experience by exploring the domestic and military lives of serving soldiers.
Vindolanda is supplemented by a separate Roman Army museum a few miles away at the Roman fort of Carvaron which looks at the wider importance of the Roman army to the Empire.
The attractions will open to the public on March 12.
Roman Artefacts still litter the area around the wall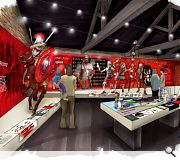 The revamp introduces a range of exhibits to bring the Fort back to life
Back to February 2011