Graven Images complete Kuwaiti Hotel Missoni
February 21 2011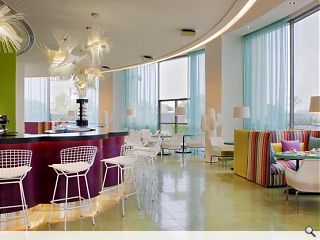 Glasgow-based Graven Images has finished the interior designs for the world's second Hotel Missoni, in Kuwait City.
The company has worked directly with the fashionista Rosita Misonni, The Rezidor Hotel Group and CRC for the past four years to be ready for this week's grand opening.
The hotel includes 169 rooms, equipped with 63 suites; the luxurious Six Senses Spa; fitness suite; large outdoor pool; spacious meeting places; a ballroom and an outdoor terrace.
This year, the company celebrates its 25th year in business, in which time they have produced architecture and interior designs for buildings all over the world.
The small team of 30 also delivered the interiors for the first Hotel Missoni, which opened in Edinburgh in 2009, and since then it has worked on further projects such as Radisson Blu in Chicago; Crowne Plaza Hotel in Maple Cross and it's presently working closely with Micheal Graves Architects to create the world's third Hotel Missoni, in Oman.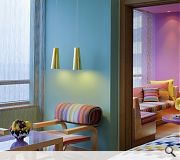 A soft palette lulls guests off to slumber in the bedrooms
The pastel hued entrance lobby sports a dramatic chandelier
Back to February 2011