Workshop to improve Cumbernauld
July 1 2006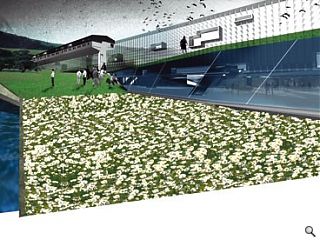 Cumbernauld Community Forum held a one-day workshop in the spring to discuss ways in which their town centre could be improved. Although the event was well attended by local people, the council was not represented at the event. It made its apologies because Channel 4 was filming the proceedings for its Demolition series. The workshops reviewed the plans for the new Antonine Centre and discussed how the public realm could be improved. Gordon Murray presented some ideas from students to help to stimulate debate. Students at Strathclyde have been working in groups to produce a masterplan for the town centre and the surrounding areas.

Meanwhile the Campsies Centre Cumbernauld Ltd (CCCL), the company set up by North Lanarkshire Council to redevelop the town centre, has embarked on an information campaign to inform local residents about the impact of the Antonine centre. It will have 42 shops and 3,000 parking spaces and is being developed by London and Regional Properties and built by Dawn Construction.

According to the CCCL it will create 600 jobs. Retail analyst CACI estimates that the Antonine Centre will increase expenditure in the town by 84 per cent and retail business consultant FSP estimates a 166 per cent rise in retail sales, from £45m to £119m, once the shopping centre opens.

Back to July 2006