Odeon saga rumbles on and on
February 1 2011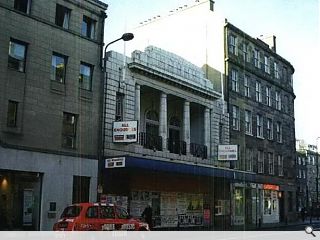 Campaigners have gathered over 300 signatories (including the hard hitting support of champion boxer Alex Arthur) in its bid to persuade Edinburgh City Council to save an historic B listed Odeon cinema.
Southside Community Council launched their campaign at the weekend in a bid to prompt the council to issue a compulsory repair notice to the Clerk Street properties owner, Duddingston House, in addition to instigating proceedings to serve a CPO.
The cinema has lain derelict for seven years and yet there is still no immediate prospect of redevelopment after the
Scottish Government blocked the most recent plans to transform the building into a hotel
.
This came after Historic Scotland objected to the partial demolition portions of the historic building.
Community council chair Hilary McDowell said: "The local community is keen that this cinema building is restored and brought back into use as a cinema and arts venue. Several groups who have plans to do just that put in bids on January 5, but DHP has not as yet accepted any of these bids."
Back to February 2011