Media City 'Greenhouse' wins planning
January 27 2011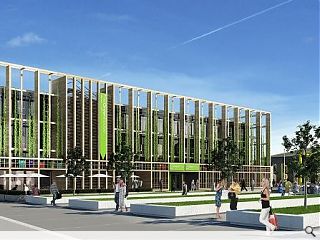 Peel Media has secured planning permission to convert a three storey building at Media City into a development called the Greenhouse.
Located less than a minutes walk from a dedicated tram terminus the facility will provide a range of office suites for small companies of up to 12 employees looking to join the growing media community at Salford Quays.
The Greenhouse is located next to The Pie Factory, a former food production line which was reconfigured for business in 2007. It accommodates three sound stages ranging from 3,000sq ft to 6,800 sq ft and 26 companies from casting to camera hire, design to IT.
Work is set to commence immediately on the Stephenson Bell designed facility.
The low key intervention sits in stark contrast to some of the brasher developments elsewhere in the complex, resulting in a structure which frames its public square well without dominating it.
Back to January 2011