Another unhappy New Year for RMJM's Fred Goodwin
January 6 2011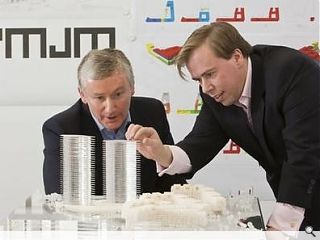 Sir Fred Goodwin's office desk is lying empty for the second time in two years after international architecture practice RMJM announced they no longer required the full time services of the discredited banker.
Staff at the firms Edinburgh base notified The Scotsman of their absent colleague after observing Goodwin's non appearance at the practice's water cooler to share tales of his festive pursuits.
A key justification for Goodwin's reputed six figure salary was that he would employ his extensive business contacts to bring new business to the firm.
But at
just shy of a year since his original appointment
RMJM state that their "less demanding" workload negates any need to have the former banker continue to warm his Bells Brae seat.
A RMJM spokesman said: "Sir Fred remains an adviser to the business, and we call on his services as required. This encompasses particularly busy periods and others which are less demanding, as is currently the case."
Back to January 2011