Channel 4 property duo relocate to Glasgow
December 6 2010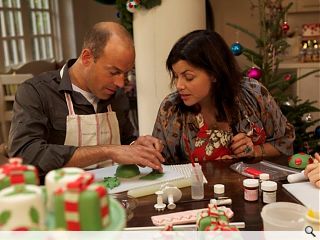 Kirstie Allsopp and Phil Spencer, stars of channel 4 property show Location, Location, Location have announced that Glasgow is the location for them as they arrive in town to launch their latest collaboration.
Raise the Roof is an independent TV production studio established by the pair, who have also fronted Relocation, Relocation, Relocation and Kirstie's Homemade Home.
Founded earlier this year by Kirstie Allsopp, Phil Spencer, Jane Muirhead and Sarah Walmsley, the firm is located at The Hub in the city's Digital Media Quarter.
Allsopp and Spencer will act as board directors for the new firm whilst Muirhead and Walmsley handle day to day operations.
Allsopp said: "Everything we know about television has been learned from some of the best programme-makers in Scotland so to be able to base our own production company in Glasgow means the world to us."
The property queen is also backing a campaign to keep Britain tidy, fed up with encountering city streets strewn with waste on her cross country travels Allsopp is helping to promote a tidies on Twitter.
Back to December 2010