Children's EcoCity unveiled in Dunfermline
December 3 2010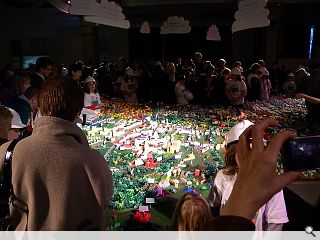 Sustainable design has proven to be child's play for a group of 43 10-12 year old school children in Dunfermline.
The group had gathered to model their ideas for a sustainable Dunfermline on an 8x8m model, part of a wider consultation on the future of the town.
Over the course of a week the group conceived and built a scaled three dimensional model of a sustainable settlement with guidance from a team of architects, engineers, planners, builders, youth and community workers.
Drew Mackie, a planner who assisted on the project, described the colourful model as "spectacular".
Since opening to the public last week it has already welcomed some 200 professionals, press and parents. Even former Prime Minister Gordon Brown found time to stop by for a visit.
Back to December 2010