Edinburgh Napier cite Norway as exemplar in environmental tourism
October 12 2010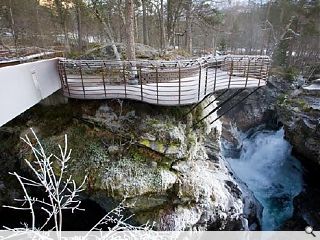 If the sincerest form of flattery is imitation then the Norwegians will be feeling pretty chuffed following conclusion of an Edinburgh Napier University conference, run by the institutions Forest Products Research Institute.
Organised by Wrap contributor Peter Wilson this event sought to raise awareness of a Norwegian initiative aimed at boosting tourism and infrastructure through the commission of over 200 architectural projects.
Using native wood our Nordic neighbours have transformed the aesthetics and economy of 18 of their top tourist's routes by installing custom built look out points, picnic areas and rest areas. A recipe which Wilson believes is ripe for Scotland to ape.
Wilson said: "The Norwegian experience is inspirational and shows what could be possible here. There are a number of very real economic, infrastructural, cultural and tourism advantages that this type of approach has to offer to Scotland."
The institute is set to launch an architectural competition in order to determine how a similar project might be developed here, and how it might be financed.
Back to October 2010