Carbuncle press frenzy impresses
September 21 2010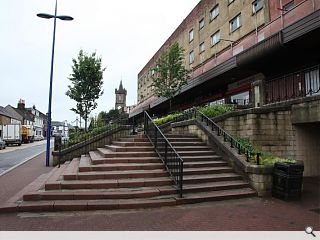 Carbuncles fever has swept the media over the past 24 hours with some of the highlights being a live stint on STV and even some celebrity endorsement from the singer Seal on Radio 2. So what have the papers been saying? Urban Realm delved behind the front pages to see what sort of impression the award has been making.
The guardian
reports that Denny residents have rallied to the Carbuncles cause over delays in demolishing a series of eyesore buildings in the town centre. A pro regeneration Facebook page currently has nearly 1,800 members.
The
BBC
identified the enthusiasm of one of the lead campaigners for regeneration in the town, quoting Brian McCabe who said: "By accepting this award we want to tap into Urban Realm's design expertise and approach Falkirk Council to see what can be done."
The
Scotsman
best described the unprecedented switch in allegiance of the Plook, saying: "One town's misfortune is another's opportunity," citing the aim of the award to kick start regeneration.
Metro
meanwhile picked up on McCabe's "Beirut on a bad day" remark about the current appearance of the Stirlingshire town. It was a comment which proved angry Lebanese residents to point out that their city has benefited from a post war boom.
The Telegraph
covered the 'Walk Around the Block' campaign run by Denny residents, this has seen a series of protests staged to raise awareness of the condemned flats.
Satirical publication
Anorak
meanwhile had the last laugh, it described Denny as "More dismal than Susan Boyle's cat basket."
By accepting our unsightly trophy Denny can rest easy that their town will not atrophy further. Urban Realm will be working with residents of to ensure that their community does not become a serial Carbuncles offender.
Back to September 2010