Great Eastern Hotel redevelopment nears completion
September 7 2010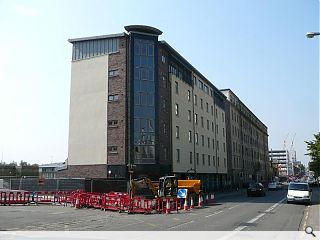 Milnbank Housing Association's £14m redevelopment of the A listed Great Eastern Hotel, Glasgow, has reached external completion.
It will provide 48 flats for social rent and 60 homes for private sale alongside a community nursery built by Campbell Construction Group.
A new build portion adjoins the hotel, matching it in scale if not materials. Clad in expanses of yellow render and red brick the properties join the neighbouring Collegelands development in an attempt to reconnect the built fabric of Dennistoun with that of the city centre.
The property has been designated unsuitable for families owing to the danger presented to children under the age of 10 from proximity to the nearby Molendinar Burn and an electricity substation together with the presence of open balconies.
In addition the property has been declared a "car free zone" with limited spaces all allocated to properties sold on the open market within the former hotel building.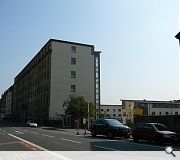 Dennistoun bound traffic presently has to run this no man's land gauntlet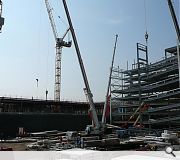 Nearby Collegelands is also rattling on apace
Back to September 2010