Scott unveils Cumbernauld's femme metalled
August 25 2010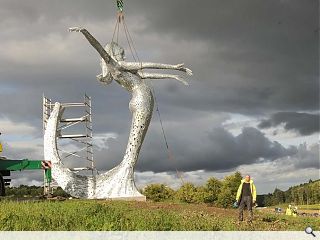 Sculptor Andy Scott has unveiled his latest piece, a steel depiction of the female form, on the A80 past Cumbernauld.
The giant artwork had to be split into eight pieces to allow it to be transported by road and was subsequently assembled on site using a crane.
It is intended to transform negative perceptions of the oft derided New Town by imparting a more positive image and dispelling its unwanted "most dismal town in Scotland" tag.
Rising to 10m in height the sculpture has been christened 'Arria' by a local resident and is set to become a familiar sight for motorists navigating the Auchenkilns Junction.
Back to August 2010