Luder's Dunston Rocket faces demolition by years end
August 6 2010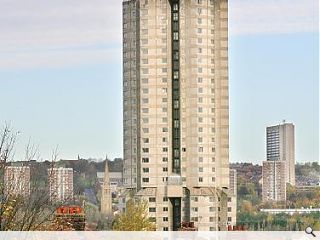 Gateshead Council is to begin work on clearing the site of Owen Luder's 29 storey Derwent Tower – the Dunston Rocket, before the year is out after issuing tenders for its demolition.
Gateshead Council states that the tower was in poor structural condition due to the type of construction and materials used. Many of the flats suffered from damp, unreliable services, poor water pressure and heating.
The site will form part of the redevelopment of the Ravensworth Road area of Gateshead which will deliver new housing, retail facilities and environmental improvements.
Owing to the structural complexity of the tower the structure cannot be brought down explosively and must instead be dismantled piece by piece, a process which could take up to 15 months.
Councillor Angela Douglas, Gateshead's Cabinet member for Housing, said: "Many people see Derwent Tower as representing all that was wrong with the past, when buildings were designed and created as architectural exercises rather than as places to live.
"The tower has been a huge drain on Gateshead Council's resources and a constant irritation to the residents and community who had to live under its shadow.
"I know many local people are looking forward to the day when the tower finally goes and we can bring forward our proposals for a major redevelopment of the Ravensworth Road area. That day has just come a step closer."
The rocket is the second Luder designed structure to be demolished in the area this year following the earlier demise of
Gateshead car park
.
Back to August 2010