Holmes unveil Park Mains Secondary design
July 29 2010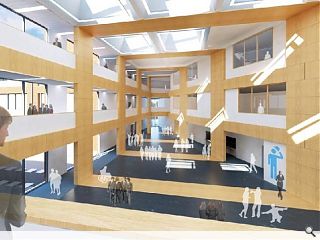 Holmes has unveiled designs for Park Mains High School in Erskine, Renfrewshire.
The £33m school is arranged over three levels and boasts a four court games hall, gymnasium, dance studio, fitness suite and multi use assembly hall; facilities which will be made available to both students and community alike.
A strong brickwork grid defines the character of the main building, reflected internally through the use of timber. A two storey management and administration building slots into this environment, proclaiming its distinction through the use of Terne stainless steel and a curving form.
A central atrium overlooking an external courtyard floods light to the interior and doubles up as a dining and social area with access to playground terraces.
Classrooms each include a 'break out' space to engender greater flexibility and allow teachers to emphasise topic rather than subject based learning.
Work is projected to start on site in January 2011 for completion in summer 2012.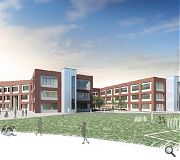 Fingers of accommodation branch out from a centyral atrium to ease circulation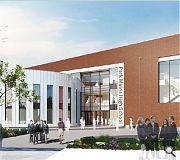 Materials and form distinguish the schools constituent parts
Back to July 2010