Scott Sutherland students dream up plans for Firth of Forth island
Send to friend
* Required fields
|
Send to friend
June 21 2010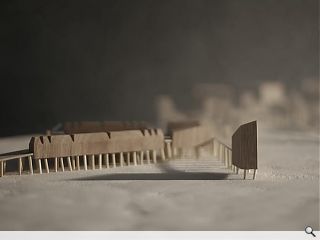 Students from Robert Gordon University's Scott Sutherland School of Architecture and Built Environment, Aberdeen, are to exhibit their vision for a settlement on stilts straddling the Firth of Forth at their End of Year show tomorrow.
The final year project, put together under the auspices of visiting professor Alan Dunlop, envisages creation of a new island – Cramond Island – in order to bring its residents closer to nature.
Embodying the "two pint rule", whereby thirsty residents need never find themselves beyond walking distance of a pub or a newsagent, the hypothetical community would employ an extensive network of cycle paths and walkways to discourage car use.
A key consideration of the design was marriage of waterfront amenity and industry and in this regard an oyster farm is postulated alongside an algae farm, providing fuel for the islands biomass power.
Scale models and drawings of the students' conceptual designs will be on public display from 23 June - 2 July (9am – 5pm everyday). Entry is free.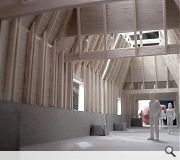 A putative tram link would extend into Edinburgh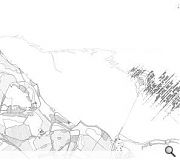 The Crannog like estate would boast sea views
Back to June 2010