Maine Road redevelopment plans to begin in New Year
|
Send to friend
November 19 2004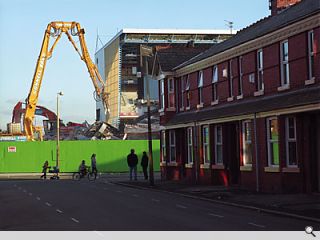 The winner of the competition to develop the former Manchester City Football ground at Maine Road site will be announced at the end of November. The five developers bidding to transform the site in a flagship regeneration project are; City South Developments, David McLean Homes, Lowry Homes, New City Vision and Westbury Homes.
Developers will be asked to provide business plans and produce highly detailed proposals showing the overall layout and the full designs and dimensions for all proposed buildings. The city council hopes that the scheme will be ready to go for planning permission soon after the preferred bidder is selected.
The site of Manchester City\'s old ground is being heralded as one of the most significant development opportunities outside the city centre. The 6.25 hectare (15.5 acre) could play an important role in the regeneration of Moss Side and Rusholme.
The Maine Road development brief calls for a minimum of 350 homes. More than half of these homes will have at least three bedrooms while no more than 50 one-bedroom properties should be proposed. The brief also calls for an affordable housing element, some particularly for the elderly, and private rented accomodation will be limited.
Potential developers have been asked to provide a mixture of housing and a local supermarket or secondary shopping, some public open space and areas suitable for a cluster of neighbourhood services, including health, childcare and other community services.
Councillor Richard Leese, leader of Manchester City Council, said: \"The Maine Road site is special because of its prime location near the city centre, its neighbourhood\'s identity and its traditions. We are delighted with the calibre of submissions we received from developers and are confident that from this shortlist we can select a scheme which will be at the heart, both symbolically and practically, of the renaissance of Moss Side and Rusholme.\"
Back to November 2004