Scott sculpture unveiled in Newton Mearns
|
Send to friend
June 15 2010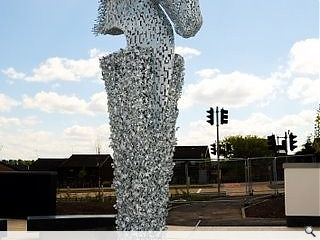 A 4.5m horses head has been unveiled in Newton Mearns, the latest galvanised steel sculpture to emerge from sculptor Andy Scott's stable.
Commissioned by developer Gleniffer estates the work signifies entrance to the Greenlaw Village Neighbourhood Centre, a £30m scheme, an 18,500sq/ft retail park in the Glasgow suburb.
Situated on a plinth and layered with intricate steel leaves the piece is intended as an homage to traditional terminus column sculptures, but reimagined in a contemporary way.
Gleniffer's MD, Bryan Wilson said: "The Mearns area was originally an agricultural community and over the years it became an important trade route, originally as a bridle path for horses and then as a metalled road for wheeled traffic passing through on the way to Kilmarnock and Ayrshire.
"The sculpture links the old traditions of the area with the new development which will not only service the local community but people passing through the area."
Scott's latest work follows the unveiling of a female figurine destined for Cumbernauld in a bid to challenge conceptions of the New Town.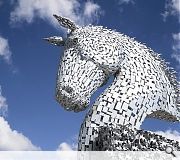 Horses are a recurring Scott favourite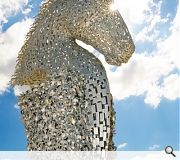 The sculpture is intended to lift the anodyne business park
Back to June 2010