Wilson's Weekly Wrap
RMJM plays its Joker
|
Send to friend
June 8 2010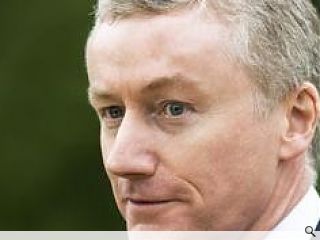 In the 'you couldn't make it up' department this week must stand RMJM boss Peter Morrison and his chum, Sir Fred Goodwin. As chronicled in the Wrap many moons ago, wee Peter's decision to reincarnate the latter's career in architectural form was as much to do with the former banker's contact book as the Morrison family's long friendship with Scotland's furthest fallen financier. And boy, six months into the job, how well Sir Fred has delivered: tea and biscuits at Buckingham Palace with the Queen's second son, the ever diligent but ever so slightly daffy Duke of York. Now, Andrew may not exactly be brightest button in the box when it comes to choosing partners but, in his role as a 'special representative for trade and investment', the man is the establishment front for British firms in their efforts to win lucrative contracts across the world.
And it's just this kind of far-sightedness that's sets RMJM apart from the rest of the architectural profession. You can just imagine the scene in RMJM's Bell's Brae Bunker when Sir Fred swept in with the news that he and Pete were off down the Mall to meet Sarah Ferguson's ex - and then, just as the pair's champagne glasses were clinking, the wall-mounted plasma screen fired out the news that the Duchess had been caught trying to stiff a sheikh for half a million smackers in exchange for a meeting with Budgie, her ex-Helicopter pilot. From where you're sitting you could probably have seen the thought bubble over our bold boys heads, viz. what might it cost to get them across the threshold of Buck House, and would it pay them their previously-anticipated dividends? The tension in the BBB must have been palpable, especially since our two likely lads are both old enough to remember Andy and his Duchy Original ginger nut almost bringing down the House of Windsor with their ultra-embarrassing appearance on TV's 'It's a Knockout.
The great thing about all this of course is that we'll probably never know whether the Duke of York is actually capable of marching the RMJM men up the hill to further international architectural success. His UK representative role is, after all, deliberately unheralded (even to the point of mystery as to who actually pays him to trot the globe on our behalf), but with him now on the RMJM team alongside Will Alsop and Sir Fred, wee Pete has a nap hand of Jokers to play when dealing with the odd sheikh.
You put your Gazprom in, you put your Gazprom out, putin, putin, shake it all about
One person who obviously never made it into Sir Fred's contact book is Russia's President Dmitry Medvedev. This startling omission is now looking more than a bit remiss from RMJM's point of view, given that the man in charge in the Kremlin has decided he doesn't like the company's designs for the $3bn Gazprom headquarters in St Petersburg. Up until now, the Bell's Brae oligarchs must have thought the project - despite the intense controversy surrounding it - was safely in the bag, given that ex-President Putin is a St Petersburg man and his replacement, Medvedev, had previously been on the Gazprom board.
Until now, Dmitry has been viewed here in the west as simply Putin's puppet, a placeman holding down the presidential post only until the previous incumbent could find a way of shifting the rules sufficiently to allow him another term in office. Clearly, and without anyone here appearing to notice, the political winds of Mother Russia seem suddenly to be blowing from a different direction, for not only has Medvedev come out strongly in support of Unesco's (and widespread public) objections to RMJM's 403m tower, but so too has the country's minister for culture, Alexander Avdeyev.
Russian politics being what they are, neither man would surely think to take on Putin or St Petersburg's powerful city administration unless they were fairly certain of coming out on the winning side and so you have to think that Prime Minister Putin has given the green light to trash the Gazprom folly. Could it be that this gargantuan energy company had some of its foreign currency earnings tied up in RBS shares or – worse – the Russian government itself had invested in Gogar Global before it went tits up and had to be bailed out by the UK taxpayer? It may seem like a large price to pay for employing Sir Fred, but if it wasn't before, RMJM since his appointment is clearly now on Putin's radar and he's not a man who's well known for letting a grudge escape unredeemed. Mind you, he may actually have mellowed late in life to become a born-again conservationist. And pigs fly.
Glasgow's South Banker
On which note let's move on quickly to Napoleon and Squealer's other fiefdom. Last time round I wrote about Tribal's efforts over many, many months to sell Nightingale, its wholly owned specialist healthcare architecture division and then, within the space of a few days, a buyer is found. The Wrap takes no credit for this sudden turn of events, and merely notes that the practice was bought by Tribal in 2002 for £9m and has been sold to Canada's IBI Group for £13.1m which, you have to say in these difficult times, is a bit a triumph for Tribal. Not so much for Nightingale staff though, because you don't need to be a rocket scientist to recognise that if Tribal couldn't make money from the firm even though it was outhousing the detail design work on Glasgow's new Southern General Hospital to cheaper drafting staff in South Africa, then it's highly unlikely the Canucks will manage to do so without shedding substantial numbers of Nightingale's UK staff. Whilst also investigating small print contractual opportunities to ratchet up the bill in Glasgow of course. We watch and wait since this one falls into the same category as death and taxes –inevitable and sadly predictable.
One way ticket from Delhi to Dalmarnock – £1bn second class
I realise it's been a while since the Wrap was able to offer an update on progress in Glasgow's east end, the city banlieue that a few years ago made it to the finish line ahead of some obscure spot in Africa in the race to host the 2014 Commonwealth Games. At the time, you may recall, the city's bid was all about how little Glasgow would have to spend compared to similar events elsewhere, it having facilities in place already and all that. Yes, well, tempus fugit, as the Romans were wont to say, that was then and this is now. The original bid estimate of £373m went up almost 25% to £453m by the end of last year and has now climbed to £523m, the extra £70m being, we are told, merely an adjustment for inflation. Where the latter will lead us by 2014 is anybody's guess, never mind the absolutely predictable cost over-run as we get closer to the event itself, but as usual the familiar clichés have been trotted out by the Scottish Government, Glasgow City Council and Commonwealth Games Scotland about the lasting social, economic and sporting legacy that will accrue from the event. Such sophistry might have washed before the economic downturn but with new attention being placed on all aspects of public expenditure, Glasgow's financial fun and Games are attracting a bit more scrutiny than the city fathers and the organisers might have liked.
First up to the plate were the public health analysts who found scant evidence socio-economic benefits emanating from major sporting events, not it has to be said, a conclusion likely to get incumbent politicians' pulses racing. Then there was the hiccup over the new 'National Arena', a project whose funding was to come in part from the £40m proceeds of a car park sale. Like so many similar packages, the bottom fell out when the Elphinstone Group saw demand for housing plummet and distanced itself from the deal. Surprise, surprise, the Council has had to step in with a loan (secured, somehow, against the land value) to ensure contracts are placed timeously. It would, I think, be fair to say that this expedient action on the part of the Council is unlikely to be the last as we move inexorably towards the 2014 deadline
Which makes you wonder at the organisers' pr strategy. Given the less than credible financial controls in operation in London's east end, the signing of a memorandum of understanding with the London Olympics organisers to share information and experience might be something you'd want to keep to yourself. The benefits to Glasgow are apparently introductions to London's sponsors, the sharing of assets (unspecified), ticketing and security information and the chance for the city to purchase London's used but 'fit-for-Games-use' equipment at 'an economic price'.
All well and good and eminently sensible you might say, but then the organisers go and blow it by trumpeting their proposed £1.5m of expenditure on the handover ceremony due to take place in Delhi this October. This, we are told, will rival the Olympic handover between Beijing and London which, for those who bothered to watch, was a head-under-the-couch experience that included a red double-decker bus and Leona Lewis pretending to be Led Zeppelin. Glasgow's idea for topping this is to ship 400 performers out to India to shake their Delhi-bellies to – yes – bagpipes, a brilliant concept the organisers believe will absolutely bedazzle a world wide television audience of 1.5bn people. Good to see we've got the right people in charge of projecting an accurate image of modern Scotland to the world.
And what would William McGonagall ever have to say about Victoria & Albert's Guggenheim-on-Tay?
If anyone thought the age of the iconic building was over, the good old Victoria and Albert has returned to confound us. It's not so much that the contents of the South Kensington institution are the perfect embodiment of a time warp; its not even the wild-eyed notion that a 6200 square metre building can be constructed on a peninsular site yet to be built out into the silvery Tay for a mere £48m; or that, in the current financial climate, the V&A's funding masters will regard the outhousing of some of its collections in what is promised to be the largest museum of contemporary design in Scotland as an absolutely vital cultural initiative; no, it's the usual wearisome colonialist composition of the short list, culled from 120 applicants for the project. Yes, I know all about EU competition rules, but I remain fascinated as to why the best Scottish firms seem incapable of reaching the shortlists for projects in their own country since the same is rarely true for architects elsewhere.
Mike Galloway, Dundee's director of development tells us that: "one aspect that is particularly satisfying is that of the wider range of consultants included in these teams, over half of the successful firms are from the UK and almost a third are based in Scotland itself." Well, that's one interpretation I suppose, but it wasn't the way it was reported in the Times ("only one of the successful firms named is British") so does Mike's claim stand up to much scrutiny?
Hot from his success in the Glasgow School of Art competition, US archistar Steven Holl appears again with JM Architects; designers of the Porsche Museum in Stuttgart, Delugan Meissl of Vienna are joined by German firm Wenzel + Wenzel; Kengo Kuma and Associates from Tokyo (where they designed the Suntory Museum of Art) have Scottish architects cre8architecture as their local bag carriers; New York-based REX (an off-shoot of OMA) who designed the 62 storey Museum Plaza in Tokyo are joined by Buro Happold and - oddly - Urban Splash; Oslo's Snøhetta has omnipresent Gareth Hoskins and top engineers Adams Kara Taylor on board its dream team; whilst Sutherland Hussey, the only Scottish architects fronting a team, are joined by homeboys Gross Max and the local offices of 3DReid and AECOM.
The latter two teams were already on the V&A's radar, being involved in the latest attempt to find a design for its Boilerhouse project in South Ken and, from a Scottish perspective are the most 'local' of the teams selected to produce design concepts and models that will go on public display in the library of Abertay University (yes, that's the Dundee Yooni that doesn't have a school of architecture). Snøhetta has of course a phenomenal competition-winning record that includes the Great Library of Alexandria in Egypt (the new one) and Oslo's fabulous harbour-front opera house, so must be considered a good bet here. Sutherland Hussey can't quite show the same level of home support, having managed to get only a few small projects constructed in Scotland, but they are currently busy with a modest scheme for the Edinburgh Sculpture Workshop. Oh, and on a £240m museum project in China's Cheng Du province as well as being at the early design stages of a new city for a million and a half people in the same country. What is it they say about not being a prophet in your own land?
Five stars no more
The City of Edinburgh Council's ambitions to turn the capital into one large hotel have taken a bit of a tumble recently, for not only has developer Duddingston House's scheme to transform the old Odeon cinema in South Clerk Street into a boutique hostelry, but now comes news that Allied London, the prospective owner of the controversial Caltongate site, intends to scale back on plans to include a five star hotel in its revised proposals for the land. A few days after this announcement came word that Irish developer Tiger had finally decided to drop the 17-storey element from Richard Murphy's scheme for the Morrison Street site beside Haymarket station.
In both instances of course, the passage of time has meant the development equation has changed and whilst Allied London hopes to get away with modifying the existing planning permission for the land, its view is that whilst "there is no need to start from scratch, it is clear that the market is very different in Edinburgh than it was five years ago. We are looking closely at existing developments in the area and also at what is going to be happening with the station (Waverley). We don't see a five star hotel as being integral to the new scheme."
In Tiger's case, a deal to build a five star tower for global operator Intercontinental has been scrapped, the developer admitting it would have struggled to deliver the required 200 rooms in the wake of the public inquiry's findings. Tiger director Simon Fox commented "it's a very different world we are in now compared to two years ago. The deal we had with Intercontinental was for a management contract. It would mean we would have to take most of the risk on the development and we would be unlikely to raise enough finance for that. We also had a problem making a five star hotel feasible on the site when the inquiry reporter's findings were so clear."
Tiger aims to proceed with a new scheme that includes 450,000 square feet of office space, shops and – we are told – public squares. The tallest of the offices will be a mere eight storeys, some way within the Council's new height guidelines that limit the height of new buildings to ten storeys. The latter are of course a bit late for Tiger and Richard Murphy, who might have been able to respond the design challenge first time round had the Council not been so greedy in its demands for Danegeld for its ever-diminishing tram system (of which more below).
The prospective owners of Caltongate have an entirely different problem, i.e. whether the existing planning permission can simply be transferred over to them (as they would appear to have assumed – or been assured), given that there are already questions flying around about the legitimacy of this under EU law precisely because - as at Haymarket – the Council has a pecuniary interest in the successful development of the site. The jury's out on this – and may be for some considerable time.
Both projects clearly have some way to go, but presuming Irish developers are still able to command some traction with a post-crash, rapacious banking system we could well see Richard's plans for Haymarket writ (fairly) large within - oh - a decade or so. Wheels - and trams - move gey slowly in Auld Reekie.
Fallout over a TIF
Which segues neatly into the City of Edinburgh Council's latest bright ideas on how it might find more money for its tram scam. Having failed miserably to divest developers of the sums it needs to meet Scottish Government' requirements. The City worthies describe this as a "downturn" in developer contributions, a fabulous inversion of reality since, by its own admission, the Council has raised only £4.5m of the minimum £25m it needs to deliver as its contribution to the system.
But hey, a mere bagatelle like this isn't going to hold our visionary politicians back from expanding the tram's route beyond it's currently stationary position beside the Scott Monument on Princes Street. No, in a report before the Scottish Government's transport, infrastructure and climate change committee, the Council declares "Expanding the tram network requires a significant funding commitment. New methods of funding infrastructure, for example Tax Increment Finance, will be required."
So there we have have it: Tax Increment Finance, or TIF to its proponents, is to be the new PFI/PPP and already the City of Edinburgh Council's proposed way of part-financing of its £84m scheme to restart the redevelopment of the capital's waterfront. For the uninitiated, TIF is a financial model that is reputed to have worked successfully in the US (although extensive evidence now suggests this claim to be some sizeable distance from accuracy) and which the Scottish Government – given the non-appearance to date of its loudly proclaimed Scottish Futures Trust – is quietly encouraging local authorities and others to test-drive here in our very different fiscal system. Essentially it entails the raising of funds for capital projects against an anticipated future increase in rate income that is presumed will ensue as a result of significant infrastructure and built environment improvements.
As yet, no one here has trialled this model in the changed economic climate that has emerged since the world's great financial crash of two and a bit years ago, but with our banks blitzed it seems our loopy leaders think they may as well now go for broke. The payback time will, after all, be far away in the future and well beyond the career timescales of the current generation of politicians, but the one point of this latest wheeze that they seem not to have got into their heads yet: you can't actually go for broke when you already are.
Garden gnomes run amok
Which in turn is an even more natural segue into the nefarious, inter-twined world of Aberdeen business and politics. Yes, the powers that be and the powers that tell them what to do are both mighty keen on using a TIF to pay for Sir Ian Wood's megastructure at Union Terrace Gardens. The former want one because they have not a bean in the world to pay for anything and the latter because it usefully punts the Darien-like cost of the madcap project well away from their own pockets and into those of the nation's sons, daughters, grandchildren and other descendents in perpetuity.
But let's not accuse the Granite City's grandees of excessive canniness in this matter or even of outrageous bullying, despite their written bluff to depart the city en masse if its peedie Council was to have the temerity to vote down Sir Ian's grand projet. No, there are other players in this game for whom public opprobrium holds little threat, so step forward first one Andrew Dixon who, having only just taken up his new post as chief executive of Creative Scotland, the quango that next month is to replace the Scottish Arts Council and Scottish Screen, felt it important to laud the "ambition and vision" of Sir Ian's plans. Whilst this might be seen by some as an unfortunate gaffe by someone new to the post, it surely can't have escaped his notice that the Scottish Arts Council was one of the principal financial supporters of Peacock Visual Arts and its competition-winning design for new premises. A spokeswoman for Creative Scotland was quick to suggest Mr Dixon's original remarks had been taken out of context by a local newspaper report but, since making them, Tom hasn't exactly moved with alacrity to refute his craven comments. For the record, Tom, what exactly did you mean by "there's a level of ambition among the people, the politicians and philanthropists in Aberdeen to do something special"?
Tom's not alone as a Janus head – in the last Wrap I wrote about RIBA President Ruth Reed's reluctance to be seen to support architects Brisac Gonzalez' winning designs for the Peacock and I suggested than members in Scotland might like to write to her and point out the error of her ways. Well, I can only say that was naïve of me, for either our Ruthie knew exactly why she couldn't sign up or her organisation is more akin to a beast without a central nervous system than I'd previously thought. Yes, at the same time as the RIAS was actually taking a position on something and getting pelters from Grampian Enterprise for its troubles, its sister organisation in the south was quietly advising GE on how it might run an international architectural competition for Sir Ian's largely unfunded project. Protocol of course does not allow the RIBA to run a comp on its neighbour's patch, so it took the really useful step of advising GE to employ Malcolm Reading Associates instead.
To be fair, Malcolm has a good track record of running competitions (most recently that at the Glasgow School of Art), but that's hardly the point, since the RIBA – whether intentional or not – has pretty well holed RIAS' opposition to Sir Ian's scheme below the waterline. The RIAS has now decided to stand back and let events unfold without its further involvement, so it looks like its brief exposure of backbone will be all that we see of this professional body this side of the competition which, with unseemly haste - given the lack of clarity about the financing of the project - is now mooted for this Autumn. For his part, Malcolm is reported as saying that competitions can be good for resolving problems. In your dreams, Malcolm, in your dreams. And as for Sir Ian and the £50m he's yet to put on the table – the poor man's reputed to be girning at the Council's suggestion that he should stump up 50% of the purported £400k cost of the competition. Aye, happy times.
Menie behaving badly
And fresh from using his casting vote at the City Council to ensure Sir Ian Wood's controversial plans for the city's Union Terrace Gardens move to the next stage, the granite City's Lord Provost acted quickly to show that he isn't just a Woody, he's a Trumpy too. There he was at the city's airport, surrounded by flunkies to meet and greet the Donald. The great man responded in kind by extending an invitation to a champagne reception on what he intends will henceforth be called 'the Great Dunes of Scotland',.The Lord Provost duly turned up (again with flunkies) on Donald's beach to take part in one of the most kitsch experiences yet recorded by BBC Scotland's camera team. Yes this is the image of our land that Don Combleone is selling to his wealthy countrymen – a land in which golfers are accompanied around his links by bearskin-topped bagpipers.
Not that our man from Manhattan is getting it all his own way, for it looks like an acre of land he had hoped would sit under his Brigadoon Hotel is being sold off in tiny pieces to supporters of the 'Tripping up Trump' web campaign in the hope that it will prove beyond the wit of Aberdeenshire Council to issue compulsory purchase orders to upwards of 15000 separate owners. They better not hope to set foot on their property purchases is all I can say, for a reckless rider who though the Land Reform Art (Scotland) 2003 gave her a right of way on the beach at Menie was quickly put right by a team of Trumpy's trusties who apprehended said lady and steed and held them captive for some time before two more Menie Minders and a Trumpette turned up to interrogate her as to why she thought she might have the right to ride across the Donald's dunes. Said lady subsequently complained to Grampian's noble constabulary about her treatment but I very much doubt any legal action will ensue. In fact, I wouldn't be at all surprised if you told me it was the local police pipe band that had turned out to serenade the big man's beach barbie.
And finally…
Cyber thieves are apparently being investigated by police in Finland after virtual furniture was stolen from the Habbo virtual hotel. For a fee, visitors to the site can create characters, meet friends, take care of virtual pets and even furnish rooms. It seems that hoax web pages were set up to steal names and passwords which were then used to sign in to Habbo and take property. In the land of Nokia, the police are obviously a bit more web-savvy than our plods, because they seem to have managed to search real homes, confiscate real computers and question several real people about the thefts. I know Marx considered all property to be theft, but what on earth would he have had to say about owners being relieved of their virtual real estate? Come to think of it, would he even have been able to call it real estate?
Back to June 2010