Cumbernauld's "Plook" homes popped
Send to friend
* Required fields
|
Send to friend
June 1 2010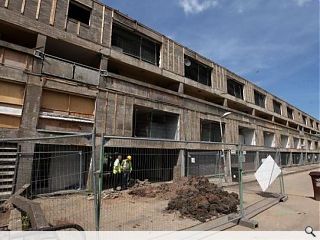 As the Carbuncle Awards 2010 get into gear one past winner is seeking to shed its unwelcome accolade with the demolition of the town's most notorious block of flats.
Branded a "slum" and "the worst homes in Cumbernauld" by officials 4-5 Fleming Rd in the towns Seafar district saw residents flee a rising incidence of anti social behaviour and vandalism instigated by groups of underage drinkers taking up residence in abandoned properties.
Sanctuary Group, owners of the failed block, were hamstrung by structural issues which made refurbishment impossible and stymieing efforts to rent or sale homes in the block.
They are now in process of demolishing the offending homes in readiness for the construction 31 affordable low carbon flats.
Cumbernauld has been the recipient of the Plook on the Plinth award twice, in 2001 and 2005.
Image taken by Mark Mainz
Back to June 2010