Great Scott! Trump plays name game in Menie
|
Send to friend
May 27 2010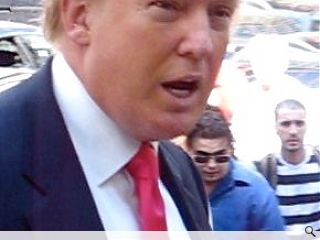 Not content with owning, reshaping and rebuilding a slice of Aberdeenshire coast into a golf resort Donald Trump is set to end 600 years of tradition when he renames the Menie Dunes as "The Great Dunes of Scotland."
The hyperbolic title is presumably intended to appeal to an international clientele by laboriously affirming the sandy greatness of an area of raw natural beauty.
Observing that most people outside Menie had never hears of the place Trump explained: "I really feel that the [current] name of the dunes – most people don't understand it."
"I'm going to henceforth name them the Great Dunes of Scotland. I think it's a more appropriate name, I think it's a bigger name, I think it's a better name and I think it's a name people can really understand and relate to in Scotland."
The news was received badly by protesters mobilising against 'The Donald's' golf plans however with one opponent, Sue Edwards, opining: "The arrogance of the man knows no bounds. It's appalling. We're going to rename him Donald Rump."
Trump met with Gareth Hoskins Architects yesterday to oversee the development of plans for the site, which will eventually accommodate two golf courses, a hotel and over a 1,000 homes and holiday apartments.
Trump is presently embroiled in a battle of minds with vocal local Michael Forbes who is refusing to sell up a critical property on the estate, dubbed a "slum" by Trump.
Back to May 2010