Historic Scotland digitally scans US Presidents
|
Send to friend
May 19 2010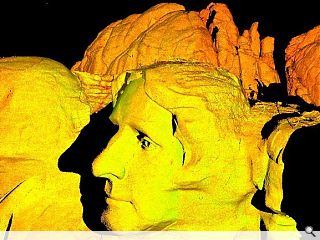 A team of conservation and digital design experts, dispatched by Historic Scotland to Mount Rushmore as part of an international technology demonstration drive, have returned the first fruits of their labours.
The group, which includes the Glasgow School of Art's Digital Design Studio, has spent the past week clambering all around the famous monument the chiseled features of Abe Lincoln and Thomas Jefferson can now be appreciated in minute detail with the production of dense point cloud renderings.
Multiple vantage points are combined to create the renderings which are sufficiently detailed to serve as models for the maintenance and interpretation by the National Parks authority.
Mount Rushmore is the first of five international sites the team will digitally recreate over the next five years in a bid to sell the homegrown expertise abroad.
Photography by Kacyra Family Foundation/ CyArk.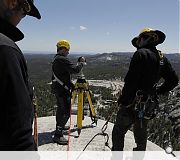 Portable scanners capture every facet of the sandstone sculptures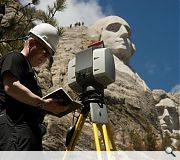 The GSA team are world leaders in the field of laser scanning
Back to May 2010