Milne mounts last minute City Square intervention
|
Send to friend
May 19 2010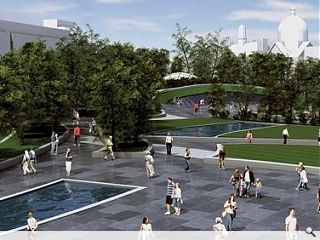 Prolific Aberdonian housebuilder and Aberdeen FC chairman Stewart Milne has mounted 11th hour backing for Sir Ian Wood's in the balance City Square scheme.
Milne has pledged to remove one of the stumbling blocks toward approval of the scheme by offering a home to the Peacock Visual Arts centre, who would be displaced if Wood's scheme were approved.
Proferring up the nearby Triple Kirks, Milne has offered to renovate the A listed structure which has lain derelict since the seventies.
Peacock have funding in place for a £13m home on the site have already rejected an offer of space within City Square, claiming that they will be homeless before it's completed.
The last minute Triple Kirks plan received similarly short shrift from an in the dark Peacock spokesperson who was unclear if the offer was genuine and who cast doubt on the ability of the historic church to meet their space requirements.
Half of the £140m costs of the Civic Square plan would be met by the private sector with Wood stumping up £50m, £15m sourced from other private sources and a 'mystery benefactor' offering a further £5m.
The remaining sum would be paid for through an in vogue pilot tax increment finance scheme, whereby future uplifts in business rates are used to repay borrowed cash.
Aberdeen councilors are meeting today to decide the fate of the scheme.
Back to May 2010