Ryder win approval for St Andrew House conversion
Send to friend
* Required fields
|
Send to friend
May 13 2010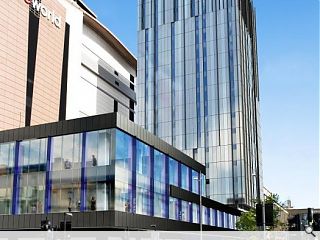 Ryder Architecture has received planning approval for the conversion of St Andrew House into a 210 bedroom hotel above a retail deck.
A joint venture between Regent Capital plc and ING the £27.5m venture will see the budget hotel chain occupy most of the 17 storey tower which will be stripped back to its concrete frame, refurbished and reclad.
Taking its cue from the existing 1960s design a layering treatment to the façade is intended to create visual depth, a technique intended to both break down the mass of the tower by provoking contrasts.
Irregular strips of recessed windows are employed for vertical emphasis and are carried into the podium deck to increase cohesion between the twin elements.
Mansell are expected to move on site this summer facilitated by the Business Premises Renovation Allowance Scheme, an initiative geared toward encouraging the renovation and conversion of empty properties.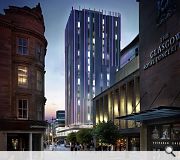 A night lighting scheme communicates Premier Inn's corporate colours
Back to May 2010