Jencks & Goldsworthy team up for Borders sculpture
|
Send to friend
May 3 2010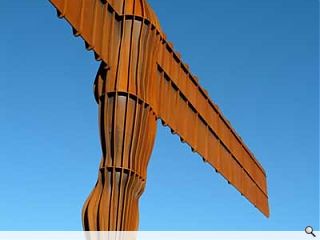 Landscape artist Charles Jencks and sculptor Andy Goldsworthy are teaming up to transform a patch of farmland near Gretna into a new gateway to Scotland.
A charitable trust is being launched to finance the £2m landmark is planned to denote the border, currently identifiable only by some motorway signage.
Located north of the river Sark alongside the M74 the project would be visible to the 10 million motorists who make the north/south journey every year.
Designs are to be drawn up over the next few months for the contemporary sculpture which will be akin to Gateshead's Angel of the North and known as the "Gretna landmark – The Power of Scotland" with completion scheduled for 2012.
Jencks describes the commission as "the most challenging" of his career, sating: ""You're never going to please everybody all the time," he said."Whatever you come up with, the more iconic it is – and it has to be iconic – the more it'll be a target for people who don't like what it's saying. Every single icon that's good generates an iconoclast that wants to tear it down. I accept all that."
Back to May 2010