Maggie's unveil seven wonders
|
Send to friend
May 3 2010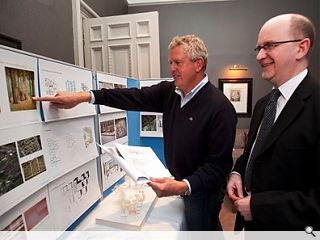 Seven additional architect designed Maggies's Centres have been unveiled for the UK, ranging from intersecting ovals in Nottingham to a "cosmic whirlpool" in Swansea.
Brainchild of the late Maggie Keswick Jencks the centres are designed to provide a recuperative environment for cancer sufferers and their families.
Rem Koolhaas of OMA is designing a new centre for Gartnavel hospital, Glasgow, which features a series of L shaped rooms wrapped around a courtyard.
Kisho Kurokawa designed the Swansea centre prior to his death in 2007, the plans will be realised by his practice.
Sir Richard MacCormac has designed the Maggie's Cotswolds, Chris Wilkinson has taken on Maggie's Oxford, Piers Gough Maggie's Nottingham, Ted Cullinan Maggie's North East and last but not least Neil Gillespie of Reiach and Hall will be picking up the reigns of Maggie's Lanarkshire.
By 2015 it is hoped to have 23 centres open or in development serving roughly half of the UK's cancer care centres. On average each centre will cost £1m.
Back to May 2010