Fraser mounts impassioned Madelvic plea
Send to friend
* Required fields
|
Send to friend
April 29 2010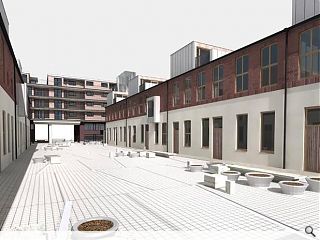 Malcolm Fraser, architect of Buredi's planned Madelvic factory development, has spoken out against demolition of the historic electric car production plant. It would see the
B listed factory bulldozed
- although an ornamented office block would be retained.
Fraser said: "I'm distressed. I understand that the housing proposed in these listed buildings is "not economically viable". But what housing proposal is viable, these recessive days? How does this then make it okay to knock down a listed building? Or is it the case that, in a recession, any listed building can be sent for landfill? If this is the way that legislation is framed in Scotland, it needs changed.
"In any case the proposal for the re-use of these buildings was flawed, a Planners' "wouldn't it be nice" of big, townhouse, work/live units with parking. We'd love to have seen whether an update of the traditional Edinburgh "colonies" – duplex over ground floor flat – without the car parking that Planning demanded (after all we are right next-to one of Edinburgh's new tram-stops) would have worked.
"It just might have been a realistic proposal, and of greater "value" than a cleared site – and God knows we have enough of them, the Waterfront is wasteland and dereliction, what's the point of making a bit more, by demolishing something of proven and accepted historic value? I love how the retained old buildings anchored and contained our masterplan for the larger site, giving it an urban and historic context.
"But the buildings are not dropped yet! And if there is any specialist developer out there who is interested, come and see me, and we can approach the site's owner together."
Back to April 2010