NHS Lanarkshire clear site for Airdrie Health Centre
|
Send to friend
April 27 2010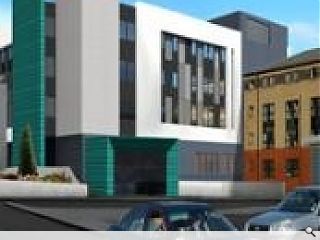 Work has begun on McLean Architects £27m Airdrie health centre with the demolition of a former supermarket and office block in the Lanarkshire town.
Their demise will clear the way for a health emporium bringing nine GP practices together under one roof as well as a range of primary care functions including dentists, podiatrists and physiotherapists.
Retail frontages along neighbouring streets and office accommodation for North Lanarkshire Council will also be accommodated in the scheme.
In their analysis of the scheme A+DS said: "The elevations have been rationalised and are more unified than previously, but this has been to the extent that they have become faceless, and still lack civic presence. We welcome the larger areas of glazing where waiting and circulation spaces have been brought to the exterior providing animation to the street.
However, we feel that there are considerable opportunities to lend the building greater articulation by celebrating the entrances to the Health Centre which, particularly at Graham Street, currently appear highly underplayed. The Design Team should be more ambitious in aiming to achieve a far more confident expression to give the building a greater civic presence in line with its important public role."
Building work on the 5 storey, 100,000sq/ft centre is scheduled to start in earnest from October in anticipation of a formal opening to the public in 2012.
Back to April 2010