Alan Dunlop departs as gm+ad become gm minus ad
April 19 2010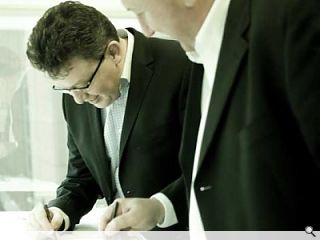 A 12 year partnership between Alan Dunlop and Gordon Murray of gm+ad architects is at an end.
In a shock departure from the firm the practice stated that Dunlop is no longer a partner of the studio, ending an award winning pairing which has done much to transform Glasgow.
In recent years Dunlop has pursued a greater academic role, pursuing the international lecture circuit and serving as visiting professor at Aberdeen's Scott Sutherland School of Architecture.
Dunlop is currently stranded in Seattle owing to recent volcanic activity having delivered a recent lecture to the University of Washington but stated that "gm+ad will cease to exist as an entity".
"At the moment I'm in the USA, at the University of Washington giving the Mahlum Endowment Lecture and I've other teaching and lecturing commitments and offers in the USA and Europe which will take me through until September/October at least. It's my intention to start my own office but have an offer already to take a Directorship in a UK practice. I can't confirm the name of the outfit, it's commercially sensitive and they've asked me to keep it confidential. I'll take a few more weeks before I finally decide."
Gordon Murray was unavailable for comment.
Back to April 2010